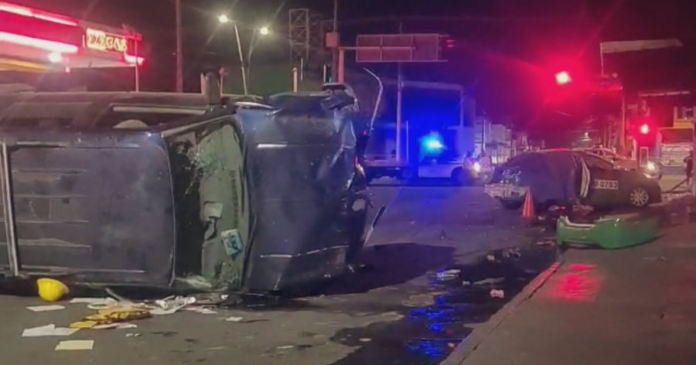 Five of the six victims had just left the "La Ingrata" bar, just a few meters from the accident site. 
A crash recorded early this Sunday left six people dead in Irapuato, Guanajuato.
The driver, while intoxicated, was speeding when his truck hit a taxi, killing the driver and five passengers on Avenida Casimiro Liceaga in the Álvaro Obregón neighborhood.
According to the media, prior to the accident, the truck that was driven at excessive speed was detected by authorities after a woman who was a co-pilot asked for help due to the driver's aggression.
Although his truck was overturned, the driver survived and was taken into custody after the accident. The woman was reported with minor injuries. The paramedics who arrived at the scene certified that the six crew members of the taxi no longer had vital signs.
IDENTIFICATION OF VICTIMS
The victims of the accident were identified through social networks. Five of the taxi crew allegedly belonged to the LGBT+ community: Melani, Trini, Ángela, Paris, and Pepe. The identity of the taxi driver is unknown at this time.
The five identified victims had just left the "La Ingrata" bar, located a few meters from the scene of the events, where relatives of the deceased arrived, however, they were prevented from approaching, as they were waiting for experts.
The crash occurred at 3:30 a.m. this Sunday, but it was not until 9:00 a.m. that the Forensic Medical Service arrived.
Members of the community demanded justice for the murder of the six people, and that the Guanajuato authorities rule on the matter.