Want to get on Mexican time and slow down during your vacation? Do it the local way by spending lazy afternoons or evenings in one of the outdoor plazas that are hubs for people watching and socializing.
The central Mexican colonial cities of San Miguel de Allende and Guanajuato sit at around 2,000 meters above sea level, with a pleasant and usually sunny climate that experiences warm days all year. With weather that's not too hot and not too cold most of the time, the outdoor cafes are open every day of the year when it's not raining.
In Guanajuato and San Miguel de Allende, there are multiple plazas and pocket parks where you can order a drink at a restaurant with outdoor seating or just sit on a bench and soak it all in. Live music performances are frequent (in normal times) and you'll often see strolling musicians playing for tips-including full mariachi bands there to liven up a celebration. If you order anything, all of this will cost you a third of what you would spend in the USA, a tenth of what you would spend in Venice or Paris.
Both cities are deemed UNESCO World Heritage sites in the whole historic center, so they're well-preserved and full of great spots for photos.
Here are some of the best outdoor plazas to explore in both cities. Have a meal, grab a paleta (Mexican popsicle), or sample some local tequila from Corralejo, which is distilled in the state of Guanajuato.
Best Outdoor Plazas of San Miguel De Allende
Jardin Allende – The main plaza of San Miguel de Allende contains its famous European-style Parroquia de San Miguel church. There are plenty of benches for enjoying a snack from a street cart, or you can sit at one of several shaded cafes situated on opposite sides of the square. There are frequent artisan sales, book sales, and music shows here on streets that are closed to traffic.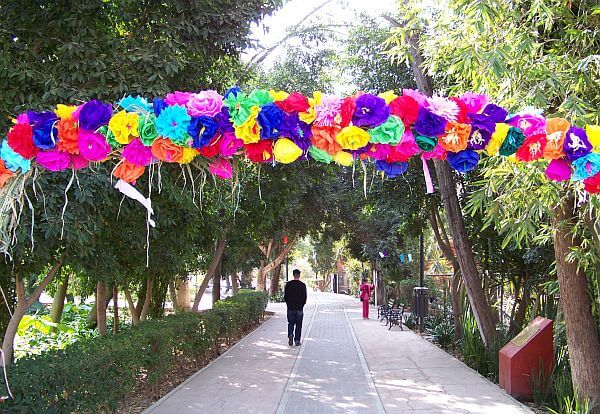 Parque Benito Juarez – This large park has a playground, pleasant gardens, and paths for strolling under the trees. At the far end when coming from the center is Hotel Santa Monica, which has a beautiful outdoor patio area for dining and drinking. https://3d158e5ed5be10cd40cb940ee7e816f5.safeframe.googlesyndication.com/safeframe/1-0-37/html/container.html
Plaza de la Soledad – Also known as "Parque Civica," this open area on the way to the artisans and municipal markets from the center has a prominent statue of independence namesake Ignacio Allende. It is ringed by vendors selling nuts, candy, balloons, and shoeshines, but there are no cafes directly on the plaza.
Plaza La Estacion – This city park in San Miguel de Allende debuted in 2017 but has been in the works a long time: it makes use of the old passenger train station that had been abandoned since the 1990s. The restored station now includes local artisans stalls, a restaurant, and an outdoor plaza with benches. It is closer to the bus station than the center, but is part of the local hop-on, hop-off bus tour. An event center and art gallery created out of an old factory will be open a few hundred yards behind it eventually, but you can't get there from here: you have to drive down the road a bit and hang a right.
Best Guanajuato Plazas and Parks
I live in this city, so I pass through most of these plazas and parks on a regular basis whether I'm walking for exercise or getting errands done. We don't have a car here and don't need one and the weather is so nice all year that I almost never wear a jacket in the daytime. Or work up much of a sweat. Here's some insider info on Guanajuato, then here are some nice outdoor plazas and parks to explore if you make it here.
Plaza de la Paz – The most photographed park in the city from this angle and from the overlook above, it's a collection of benches, manicured gardens, and the bright Basilica church as a backdrop. There are several mediocre restaurants and (better) bars to one side of it where you can sit outside. Two streets converge here: one with cars and one pedestrian-only.
Jardin de Union – The principal plaza in Guanajuato is just one oddity in this curvy city: it's more like a warped triangle than a central square, with a curve on one side. With a gazebo where a wind ensemble performs weekly and perfectly manicured trees shading fountains, it's a picture-perfect spot for gathering. On one side are three restaurants with extensive outdoor seating, while the other side has two more restaurants, an ice cream shop, and a coffee shop.
Plazuela de San Fernando– A block off the main Juarez street and completely pedestrian-only, this park with a large fountain is the other main social hub of the city. With eight restaurants and bars having outdoor seating and a stage area for bands under trees, this is a popular place for locals and visitors alike to enjoy the eternal spring climate.
Jardin Reforma – Just a short walk from San Fernando, this rectangular plaza has shaded benches and one café with outdoor seating. From here you can see the colorful Guanajuato houses climbing up the hillsides in two directions. In between is small Plaza de San Roque, fronting a church from 1726 and some bleachers that serve as seating during the annual Cervantino Festival.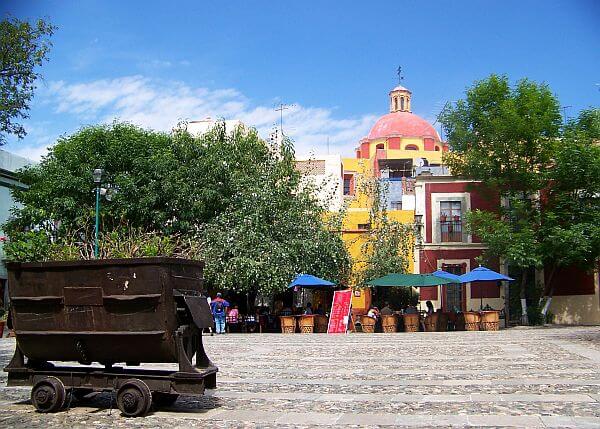 Parque Embadadoras – What this park about a 15-minute walk from the center lacks in outdoor cafes it makes up for with a very local market where you can pick up fruit and order fresh-squeezed juice, gorditas, or carnitas sandwiches. (You can see my house from here!)
Jardin del Cantador – Very few foreigners venture far enough to visit this large park off the tourist track to the east, but they're rewarded for their efforts. Seldom crowded and full of shady trees, this oblong park has bike rentals for kids on weekends and a few vendors selling snacks all week. You might even catch a morning Zumba class in action.
Parque Florencio Antillon – More of a park than a plaza–though there is a gazebo–this is one of my favorite shady spots in the city and a place I walk through several times a week when out getting some exercise. It's on the way to the Presa de la Olla small man-made lake with boats on it, a nice contrast to the city center, with some restaurants around that have outdoor space.
To find these and other neighborhood "secret plazas" where residents gather, the best bet is to get a local printed map upon arrival from the tourist kiosk or office. The second-best option is to use Mapquest; Google Maps is notoriously deficient in these parts and omits many parks and plazas, even prominent ones.
While you're there, let my expert guides lead you around on a street food tour or a historic walking tour of Guanajuato. They'll hit most of these outdoor plazas during your stroll around the city.
Lodging Options
The best selection of hotels for both cities is on Booking.com. San Miguel hotels are no bargain, so you might find a better deal with that Airbnb search box in the SMA section above, especially outside snowbird season when more houses are empty. For Guanajuato, you can find a good deal either way. Hostels start as low as $10 and there are plenty of hotel deals. Or check for larger spaces below.
Source: cheapestdestinationsblog.com