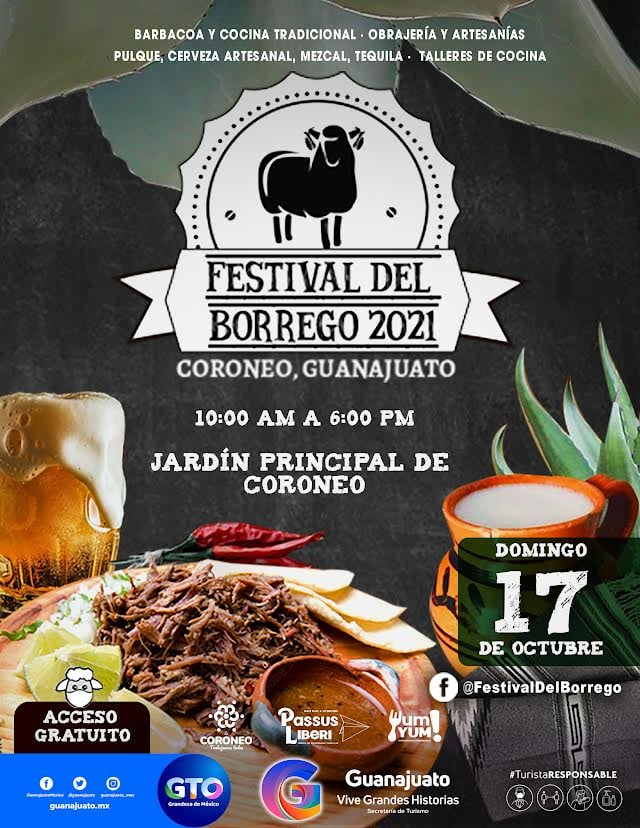 Coroneo, the Sheep Capital of Guanajuato, and delight yourself with this delicious Festival!
Enjoy barbecue, lamb menudo, roast beef, shepherd and lamb chistorra as well as tacos, enchiladas, and lamb burgers
Wool craft exhibition: quality craftsmanship, Pulque, tequila, mezcal, craft beer, and agave distillates.
Little sheep farm
Artistic shows
Tours and many more activities!
All sanitary protocols apply
Come and enjoy yourself with family and friends!
Guanajuato Borrwego Festival Date 2021
This festival will take place on October 17 in the municipality of Coroneo
Festival schedule and venue
The schedule of the Sheep Festival will be from 10:00 a.m. to 6:00 p.m., and the venue will be in the Main Garden of Coroneo.
Free entrance**
# GuanajuatoSíSabe #VenAComer #DiscoverGuanajuato A production of YUM YUM Gastronomic Experiences, part of the Passus Liberi family, in close collaboration with the Municipal Government of Coroneo, and with the support of the Secretary of Tourism of the Government of the State of Guanajuato.
Don't forget to schedule in
Oktoberfest schedule San Miguel de Allende 2021
Oktoberfest San Miguel de Allende 2021 will take place on Saturday, October 23 at Jardines del Instituto
The hours of this party, which has a limited capacity, will be from 1:00 p.m. to 11:00 p.m.