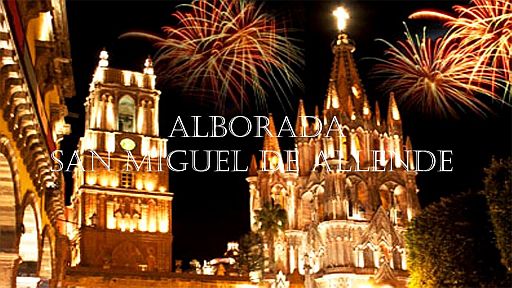 The Alborada is an event that takes place every September 30th in San Miguel de Allende. It is indeed San Miguel's very own party, the saint's day for their own patron saint. Unlike the Grito, this feels like a big family party. It's very important for the locals.
For the second consecutive year, in attention to the health contingency, the Traditional Alborada was held virtually in a representative action with small groups of people from the neighborhoods that lead this festival: La Aurora, Valle del Maíz, and La Estación.
At 03:30 hours the transmission of the special program began through the social networks of the Directorate of Culture and Traditions, where the historian Graciela Cruz and the announcer Toño Rayas shared with the audience historical data about this traditional festivity.
Meanwhile, the contingents from each neighborhood gathered in the main garden toured the first painting of the city dancing with the typical stars and accompanied by the wind band. With the first ringing of the bells of the public clock at 04:00 hours, the fireworks began to burn.
For 30 minutes, the fireworks, flares, and bombs thrown from the atrium of the parish and the esplanade of the main garden resounded to culminate with a pyro-musical act accompanied by religious praises and songs dedicated to the patron saint of the city, San Miguel Arcángel.
Finally, the San Miguel traditionalists Emigdio El Gordo Ledesma, Joel Arias, and Patricio Espinoza shared some of their experiences regarding their participation each year and thanked all the people who collaborated to carry out the Traditional Alborada 2021.
The Ministry of Public Security reported a white balance in the celebration of the Traditional Dawn 2021; during the event, access to the first painting in the city was restricted.
Source: SMT