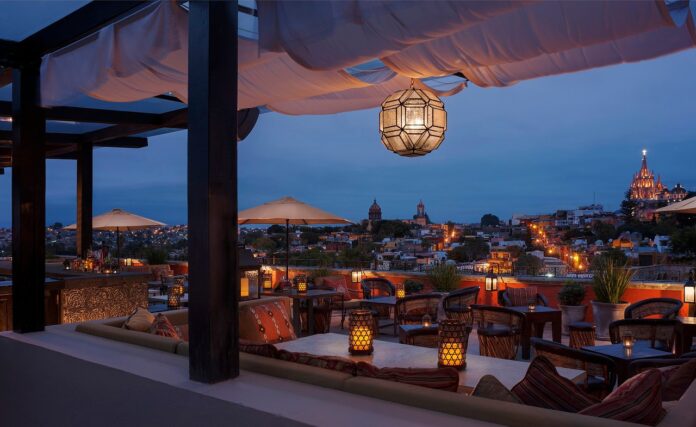 Five hotels in the city appear in the "Top 20 Hotels in Mexico: Readers' Choice Awards 2021", by "Condé Nast Traveler" magazine.
San Miguel de Allende is one of the most visited cities in Mexico, hundreds of tourists stay and walk its streets. Five hotels in the city appear in e l " Top 20 Hotels in Mexico: Readers' Choice Awards 2021″ , the magazine "Condé Nast Traveler". 
For this top, the readers who witness tourism at a global level take a vote, in which they rate all the important aspects that lodging sites should have. These are the five hotels in San Miguel de Allende that appear on the prestigious list: 
Hotel Matilda
This hotel was distinguished in the first place, which places it as the best hotel in Mexico. It offers luxury service, with a full-service spa and with easy access to a shopping center, it is located near Benito Juárez Park, the parish of San Miguel Arcángel, and the Mirador, excellent tourist points. 
ts main services include its 32 rooms, daily cleaning service, restaurant and bar or lounge; full-service spa, outdoor pool, and 24-hour fitness center. It has Deluxe spaces, Deluxe Junior Suites, and normal. 
Belmond Casa de Sierra Nevada
The Hotel Belmond Casa de Sierra Nevada is located in sixth place in the top 20. This space is recognized for its history, architecture, and decoration because it evokes the charm of a bygone era. 
Spread over buildings including a 17th-century fortress and the famous Main House, each room is filled with intriguing details. It has spacious suites and a large patio to enjoy a coffee under the blue sky. It also has a spa specialized in pleasant treatments for its guests. 
Of Casas Hotel & Spa
This hotel is described as a historic residence from the 18th century that blends with modern design, ranked number ten within the best twenty in the country. It has careful interiors, details in stone, marble, wood, metal, leather and brass that evoke the richness of the colonial heritage of Mexico.
In addition, it has a third building that houses a spa-inspired by the healing areas of ancient Greece. Among its options, it offers six types of rooms, which have an excellent view of the city. 
Rosewood San Miguel de Allende
The Rosewood San Miguel de Allende hotel represents the rich heritage and cosmopolitan spirit of the most famous colonial city of Guanajuato. This time he was ranked number fourteen in the top 20.
This space provides services for destination weddings, private residences, sense spa, flagship rooms and suites, innovative cuisine, and boutique crafts. It also offers multiple experiences for tourists, such as ATV adventures, movie nights under the stars, cooking classes, and more. 
Hotel Nena
Hotel Nena ranks number sixteen within the top 20. It is a cozy six-room place in the heart of San Miguel de Allende, located very close to Parque Juárez and just three blocks from the Main Garden where the emblematic parish is located.
It has one of the most privileged views of the city, which can be appreciated from its Sky Lounge bar. Provides the experience of feeling at home and enjoying this magnificent place full of magic and traditions. Their rates include breakfast, parking and taxes.
Where is San Miguel de Allende?