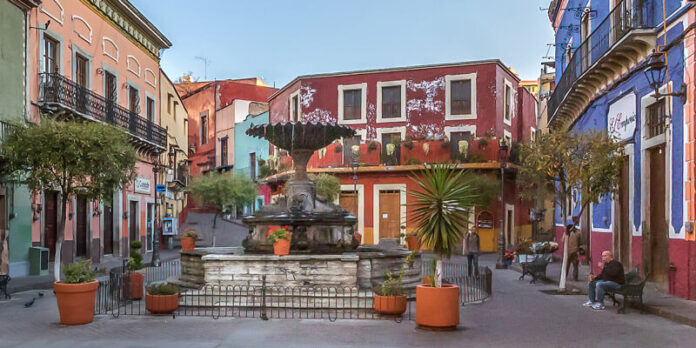 Guanajuato is not only beauty and culture, it is also the cradle of development and innovation with great options for Guanajuato residents. Colonial architecture, history, exquisite gastronomy, mummies, legends, and precious temples. All this and more is Guanajuato, recognized as a Cultural Heritage of Humanity by UNESCO in 1988.
Its name comes from Quanaxhuato, which in Purépecha means 'Place of many hills' or 'Mountainous place of frogs'. For a long time it was the most important mining center in New Spain and today it is one of the most beautiful tourist centers in all of Mexico.
These are some facts with which Guanajuato proves to be the greatness of Mexico and a national pride, a classic to visit and admire that never goes out of style!
Guanajuato is not only beauty and culture, it also represents an economic power with great options for its inhabitants to have job opportunities of an exceptional level.
So the next time you visit Guanajuato, get inspired by its innovation, history, and greatness.
Investments, new businesses and employment
Guanajuato stae is positioned as the sixth economy in Mexico, presenting a positive evolution in the last three decades.
Its economic policy and strategy for attracting investment generate confidence in investors.
That is why in this list we could not fail to mention the great growth that the state of Guanajuato has had thanks to the commercial agreements made with the old continent. Every year, with the aim of bringing investment to the state, and Investment Attraction Tour is held in Europe in which relations with different countries are strengthened.
This 2021 in Switzerland, Austria, France, Italy, and Germany 446 million dollars of investment were made with companies such as Pirelli, Proma, Nestlé, Le Bélier, ITT, and ZKW, among others. This translates into 5,556 new jobs for Guanajuato, greater development and innovation, and, of course, in raising the standard of living in the state.
Get to know all the details with which Guanajuato proves to be the greatness of Mexico, and to be ready for the future, on the Tour of Europe portal.
2. Strength of its Agrifood, Gastronomic Sector and internal market
Guanajuato is a rich and diverse state in products. The food sector is the second most important in the state, only after the automotive sector. They are leaders in the export of broccoli, cauliflower, and lettuce.
Its gastronomy has a great variety of typical foods of the region that have no comparison; from its famous mining enchiladas, mole, cecina, tamales, gorditas or chiles rellenos; Not to mention its regional sweets such as dried fruits, cocadas, jamoncillos or its mummy-shaped peanuts, in honor of its famous Guanajuato mummies.
As a boost to its internal market, for the sale of the diversity of products that it has, Guanajuato is the first state to have a region brand 'Marca GTO'.
This strategy encourages the commercial development of MSMEs, promoting quality to be more competitive in local, national, and international markets, as well as fostering pride in local consumption.
3. Tourism and Culture
The state of Guanajuato has two World Heritage Cities: Guanajuato Capital and San Miguel de Allende, the latter considered, for 5 consecutive years, as the best City in the World to visit.
Guanajuato has emblematic places where it shows its wide culture and tradition. These are some examples:
Underground Street
Much of the charm of the Guanajuato state takes place in its colorful alleys and narrow cobbled streets fo its capital.
Also known as Miguel Hidalgo Street, this famous underground road that runs under the Historic Center of the city was built in 1963 to decongest the vehicular traffic of the city center and to channel the river that was used as a drain.
Currently, most of the city's cars circulate on this street and it is a symbol of the city.
Peace Square
Guanajuato's Plaza de la Paz, also known as Plaza Mayor or Principal, is one of the leading stars of this state, in the center of which is a bronze monument commemorating the end of the War of Independence.
The Plaza Mayor is framed by the most beautiful and important buildings in the city, from opulent residences to ecclesiastical and civil authorities.
Juarez Theater
This building is considered one of the most beautiful theaters in all of Mexico. It was built with frequent interruptions between 1872 and 1903 and finally inaugurated in October 1903 by Porfirio Díaz.
Its architecture is an example of eclectic architecture, on its ceiling lie the nine Greek muses and its portico is supported by eight columns in the Roman Doric style.
Diego Rivera House Museum
As you already know, in CDMX you will find the Diego Rivera and Frida Kahlo House Study Museum, but the capital of Guanajuato houses the Diego Rivera House Museum, a neoclassical mansion where the Mexican muralist was born in 1886.
In this cultural enclosure, the different creative stages of the artist, as well as some of his personal objects, are exhibited over more than a hundred works.
Alleyways
Guanajuato has about 3,600 alleys, and the best way to get into them as well as their squares are accompanied by the music of the Guanajuato student women and a guide.
If you walk in front of the Juárez Theater you can find several groups that offer their services in exchange for a few pesos.
Kissing alley
This alley is famous for its two balconies 68 centimeters apart, which gave rise to the legend of the unfortunate and tragic love between Doña Ana and Don Carlos, who secretly met on those balconies.
Legend has it that seven years of happiness are guaranteed for couples who kiss on the third step of the Callejón del Beso, a tradition for visitors in search of eternal love.
Monument to Pípila
If you love incredible spots to take pictures, this panorama will be one of the best shots in your visit, because at the top of the city no silhouette dominates the valley like the Monument to Pípila, dedicated to the character in his performance in the fight for the Independence.
Guanajuato is not only beauty and culture, it also represents an economic power with great options for its inhabitants to have job opportunities of an exceptional level.
Guanajuato Climate
Guanajuato soars 6,558 feet above sea level on the spine of Mexico's central highlands, which provides the city with a mostly warm and mild climate, not too hot and not too cold.
Spring is the hottest time of the year when the average high temperature reaches nearly 87 F in May. The July high temperature, by contrast, is about 80 F, cooled by summer rain. The average low in July is a pleasant 57 F, great for sleeping without the need for air conditioning. Winters are mild and sunny with an average high of 72 F in January and an average low of 44 F.
Guanajuato's rainy season is June, July, August, and September when the city receives about 80 percent of its annual precipitation. The wettest month is July with just over 7 inches. Measurable snowfall does occur but is very infrequent. Annual precipitation averages 29 inches but the city's high elevation and semi-arid climate keep humidity low, seldom rising above 60 percent.
Major weather events are rare in Guanajuato, but it can receive generous amounts of rain when remnants of hurricanes or severe tropical storms from either coast visit the region.
Guanajuato is in the region known as El Bajío
The city's population is relatively small. The entire municipality has about 172,000 residents, with central Guanajuato being home to only about 71,000. As many as 10,000 are students—the University of Guanajuato is here, with many university divisions housed right in the city center.
Mexico's El Bajío region, known as the Colonial Highlands, is one of the most popular areas of Mexico for expats. This region's high quality of life, low cost of living, temperate climate, and spectacular Spanish-colonial architecture are some of the many reasons for its popularity.
More than 18 thousand foreigners have decided to live in Guanajuato, according to data from the National Migrant Institute, in addition, Juan Hernández said that little by little foreign communities in the state are growing.
"We have 18 international communities in Guanajuato, all these communities are currently evaluating whether they should go out to see their families abroad or stay in Guanajuato," said the owner.
Of the foreigners living in the state, 6,000 are Venezuelans, 3,800 are Spanish, 2,679 are Japanese residents, 2,000 are German and 800 are Cuban.
According to the Secretariat for Migrants and International Liaison, there are communities that host foreigners from other countries, such as the United States, Chile, Algeria, Brazil, Morocco, Russia, Poland, Peru, Pakistan, Turkey, and Egypt.
"Yes, our Japanese community reports to us that a percentage of them have already traveled and are even traveling to Japan to be with their families, others are not, others are staying," he said.
The secretary said that most foreigners bring their companies to the State and generate job opportunities, in addition to strengthening Guanajuato's economy and positioning it in the country.
The best-known expat haven in the Colonial Highlands is San Miguel de Allende. But increasingly, tourists and potential expats are also checking out Guanajuato, the state's capital.
Guanajuato offers a relaxed pace of life with many cultural amenities. The León-El Bajío international airport is just half an hour away. Direct flights to Atlanta, Dallas, Houston, and Los Angeles are available through U.S. carriers American, Delta, and United. Aeromexico and several discount Mexican carriers provide additional options for both international travel and domestic Mexican travel.
For shopping, Guanajuato has a nearby mall, several supermarkets, and two traditional markets in the historic center. The Clínica La Presa, in one of the city's central neighborhoods, serves medical needs. For anything not available in Guanajuato, the city of León is less than an hour away. León (with a population of about 1.5 million) is a major industrial city and home to numerous excellent hospitals and shopping malls. Here you'll find Costco, Home Depot, Sam's Club, and a host of familiar chain stores and restaurants.
Lifestyle in Guanajuato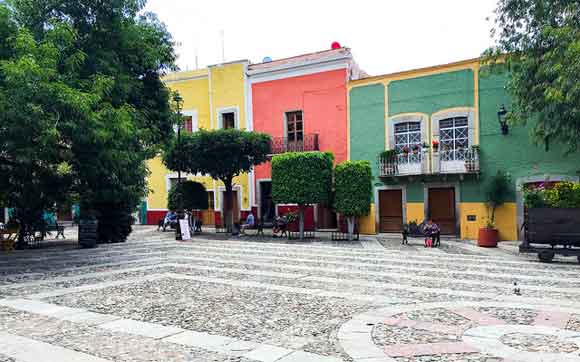 As a result of university and government presence, Guanajuato is one of the most culturally active cities in all of Latin America. The university has its own top-notch orchestra—one of Mexico's best. In addition, various other museums and performance spaces in the city provide cultural activities throughout the year. These include museum exhibitions; live theater; chamber and orchestral music; lecture series; classical, modern, and folkloric dance; and film series and film festivals. The most well-known festival is the International Cervantes Festival, a two- to three-week performing arts festival with major performing artists from around the world.
Guanajuato city counts a small expat presence among its population. Estimates put their numbers at 700 to 1800 for permanent, year-round expats. The city also increasingly attracts part-time expats, especially during the high season.
Because Guanajuato is overwhelmingly a Spanish-speaking city, it attracts expats who have some knowledge of Spanish…or who come here to study Spanish at one of the city's several language schools.
Guanajuato's expat community is international. Though U.S. and Canadian expats predominate, the city also has expats from the U.K., Australia, France, Japan, and elsewhere. In recent years, Guanajuato has attracted an increasing number of artists, both expat and local, who specialize in the plastic arts: sculpture, painting, jewelry-making, and the like. Though Guanajuato is not as well known in this regard as the expat haven of San Miguel de Allende, about 90 minutes away, Guanajuato's art scene is increasingly lively.
Thanks to the large student presence, Guanajuato's vibe skews young and lively. Festivals, open-air performances, parades, and impromptu festivities are common.
Cost of Living in Guanajuato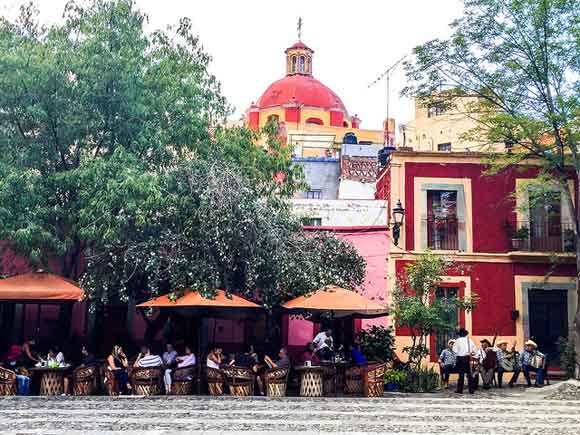 For retirees, Guanajuato's low cost of living is an additional attraction. Depending on your lifestyle, a single person can live on about $700 a month, including rent, while a couple can live for about $1,400. (Rental properties, however, are relatively scarce, and some properties for sale may require renovation.)
Expats age 60 and over who have a valid residence visa for Mexico qualify for a retiree card—the INAPAM card—which offers discounts on a variety of goods and services. Many art performances in Guanajuato are either free or 50% off with the INAPAM card, making it inexpensive to be culturally active here. Performances of the university symphony, for instance, cost just $2 with the INAPAM card (versus the already low regular price of $4).
Numbeo is the world's largest cost of living database. Numbeo is also a crowd-sourced global database of quality of life information including housing indicators, perceived crime rates, and quality of healthcare, among many other statistics.
Check Cost of Living in Guanajuato
So the next time you visit Guanajuato, get inspired by its innovation, history, and greatness.