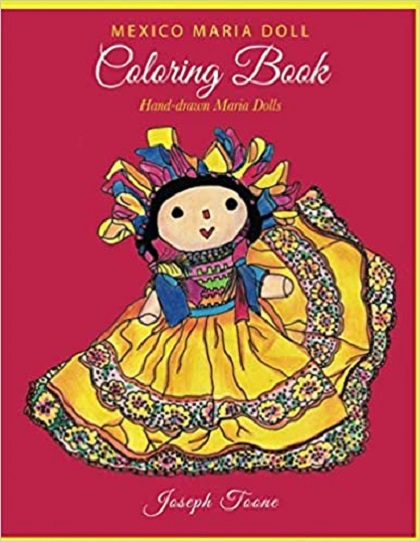 by Joseph Toone
Following recent jumps in popularity as the Mexican Maria Doll has floated around the world to international landmarks like the pyramids, Big Ben and the Sydney Opera house, Maria's popularity continues to soar.
This month both the Smithsonian and Unicef have sponsored the locally made Mexican Maria Doll Coloring book. Each coloring book sale through Unicef provides vaccines to 14 children. Sales through the Smithsonian support both indigenous artisans and the Smithsonian's collections.
The Mexican Maria Doll coloring book was created by Joseph Toone, author of all eleven books in the best-selling series, San Miguel de Allende Secrets to support local doll makers during the pandemic.
Toone is also TripAdvisor's top-rated private tour guide in San Miguel de Allende. 
Plus Toone speaks around town and the US on the Power of Feminine in Mexico giving away Maria dolls hither and yon.
---
Maria Dolls Adult Coloring Book now available online
---
Maria Dolls Adult Coloring Book from Mexico, 'Mexican Maria Dolls'
Explore the world of Mexico's folk arts with this unique coloring book.
CLICK HERE TO BUY YOUR COLORING BOOK NOW
The Maria dolls are an international cultural symbol for the power of the feminine in Mexico.
Made by indigenous Otomi women, the dolls' dresses, hair, and ribbons feature a variety of colors and styles, making them endlessly fascinating and fun to color.
The text and images are by Joseph Toone, the best-selling author of the San Miguel de Allende Secrets book series.
---
Made in Mexico
Paper
Free Gift Wrap? Yes
Premium Gift Wrap? No
0.3 lbs
11″ H x 8.25″ W x 0.2″ D
35 pages
CLICK HERE TO BUY YOUR COLORING BOOK NOW
by Joseph Toone