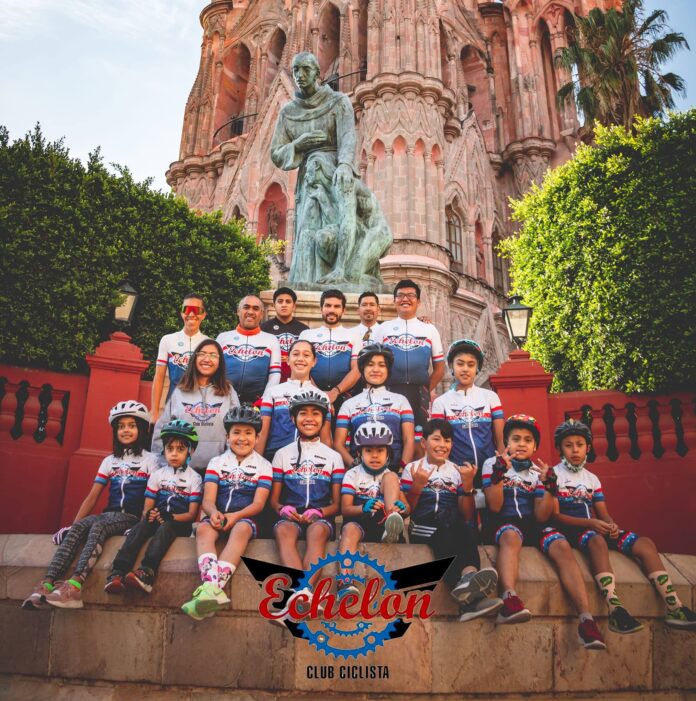 Echelon Bike is a club organized by members of the San Miguel community that, like any group, is made up of citizens who in daily life are engaged in any social and economic activity, do not belong to a specific sector or stratum of society, they are people who are not united by their economic or spatial interest, they are characters who meet because they enjoy the same passion; cycling.
Daniel Hernández considers that Echelon Bike has been formed as a seed club for cyclists and good citizens that has also promoted the creation of other groups of this nature. Daniel is a businessman, who was President of CANACO twice and a key player in the consolidation of this organization, he is an important member of this club and he tells us that with the support of the active members of the Echelon Bike Club, the Sanbikes de Noe Chávez school, some sponsors and the will of the parents have achieved the rides for beginners and intermediates. 
Cyclists get together to go pedaling, promoting the use of the bike in an urban and/or rural environment. It is about helping those who have less experience, the game is to live with those who have to pedal! On some occasions it is with the whole family and, on others, it is about conquering the distance, the summit, and fighting fatigue. 
Members of a Club like Echelon Bike enjoy sharing their knowledge about bicycles and cycling with new members, they find magic in experiencing everything related to the world of cyclists in company.
This club promotes all kinds of contests and calls, they can be invitations to carry out routine activities but also competitions, each year events are organized for different ages and categories and calls are attended that are launched in other municipalities.
Since 2020, the cycling friends have formally gone out to ride together; Tuesdays for beginners (10-20 km), Thursdays only women, (15-25 km), Saturdays intermediate (20-30 km) and Sundays advanced and experts to roll (40-60km) through the hills of the town.
Even tours with a cause and family get-togethers are organized, such as the last inn they held last December. The ultimate goal is to promote sports, healthy living, care for the environment, but above all, community unity and family integration.
In cycling groups, there will always be someone like Daniel Hernández, who has done great tours in Europe, Canada, Cuba and different states of the Republic for 30 years, in addition to pedaling alongside his colleagues, dedicates part of his time to investigate new routes, find out about this or that component, to discover the best workshop for your beloved bikes, the friendliest and cheapest, and even someone willing to dedicate extra time from their work and their pedaling to fight politically for the claims of the cyclists.
Source: atencionsma.com