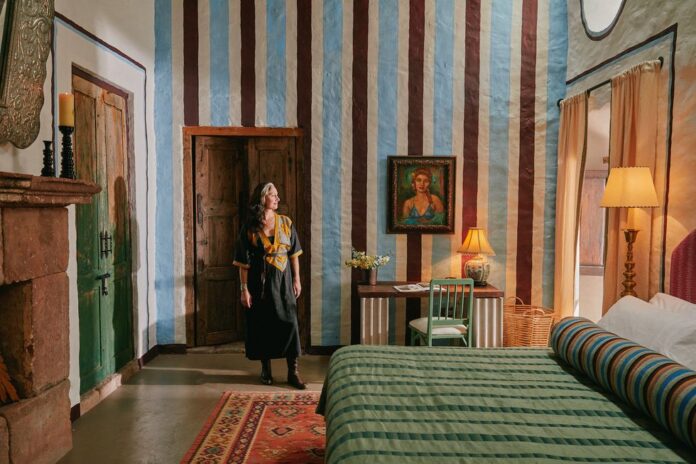 Laura Kirar's love affair with Mexico began in her 20's when she first discovered the beautiful country as a place for wellness and restoration, but the designer soon fell deeper for the craft traditions and artistic passion that abound there. After years of traveling back and forth while growing her namesake design firm in Brooklyn, Kirar knew she wanted more out of her practice that was inspired by her global experiences and had a more meaningful impact.
"I was at a certain point where things were going great and I was working with great companies, but I wanted to get involved in something that gives back and that wasn't just about designing luxury furniture and houses," says Kirar. "I wanted to do something that makes a mark, so, I started thinking about my travels around the world and particularly Mexico, which led me to think about the disappearance of craft and the techniques and knowledge."
Kirar saw this as an opportunity and her responsibility as a designer with an international platform and following to begin working with talented artisans in her beloved Mexico to create products that aren't necessarily traditional in style but that opens a new marketplace in hopes that it encourages the next generation of family members or young artists to continue the craft. Kirar began traveling often to the Yucatán and San Miguel de Allende to seek out certain materials and techniques, connect with family workshops and artisans, and create beautiful designs with the ancient techniques of these areas with the intent of selling collections to the trade for showrooms and galleries as she'd done for years. But a friend was opening up a shop in town, and Kirar was excited by the new challenge of retail, working with the shop for three years.
"It was really eye-opening to come on my first trip to San Miguel 10 years ago, and it's one of the most beautiful cities in the world," says Kirar. "It's visually stuck in time in the best of ways. It's a UNESCO [World Heritage] Site with a long history, and it's a wonderful place for metalwork, iron, and tin and bronze casting and there's also glasswork and great stone carving."
Soon after finishing with the shop, Kirar knew she wasn't done with the city. She discovered a late 16th-century building in the city's centro and immediately felt a connection with the structure. Little did she know that within months, she would transform it into one of the city's hottest boutique accommodations that would offer a creative and soothing refuge during a period of worldwide panic.
An Accidental Hotelier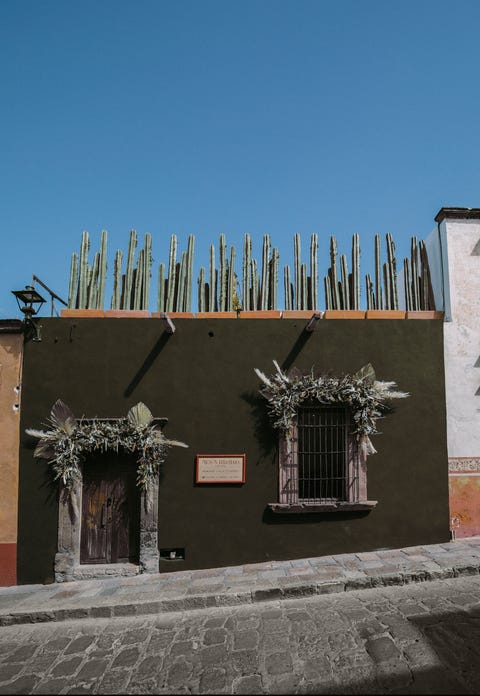 The exterior of Mesón Hidalgo. MESÓN HIDALGO
"I walk into a space and if it speaks to me, it tells me what it needs to be in 30 seconds," says Kirar. "I immediately knew this was the place—it had this amazing energy but it was also the bones themselves and the layout. So much in Mexico is behind the doors as the houses are pushed right up into the street, and you just don't know what you will encounter inside."
This property's interiors were a pleasant surprise behind the nearly 330-year-old doors with a spacious entry and a narrow courtyard. Kirar imagined the space filled with vines and olive trees. She learned the building once belonged to a beloved pastor who, when he became too old, would sit at the front window of the home where people could come for confession or to ask for blessings, and he was even said to have created miracles. Kirar says many of the oldest people in the city still remember him and will come by and tell stories of the pastor and his former home. She says it all made sense that she was so attracted to the energy of this place after learning that so many wonderful experiences happened here.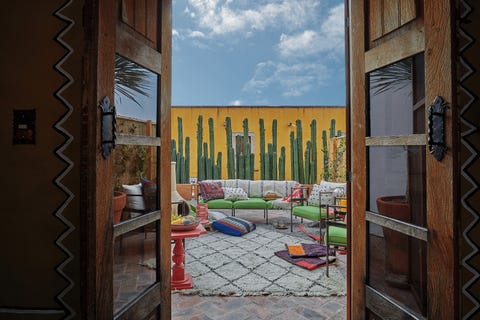 The rooftop lounge at Mesón Hidalgo. MESÓN HIDALGO
It didn't take long before she imagined this magical destination transformed into a boutique guest house with exciting retail offerings that reflect her passion for the preservation of local and ancient craftsmanship. "I used to design hotel interiors and am an avid entertainer who loves to host dinner parties and have people stay over, so I thought with just three rooms, how hard could it be?" says Kirar. "Of course, those are always famous last words."
The history and spirit of the building were important to preserve as much as possible, so Kirar worked hard to ensure that the renovation and design work didn't take the age out of the house. She wanted to create something more intimate than the classic boutique hotel or Airbnb experience that would make visitors feel like they are a part of the city and its vibrant culture and wanted the interiors to be more than just an expression of the city's history but also of its contemporary setting today.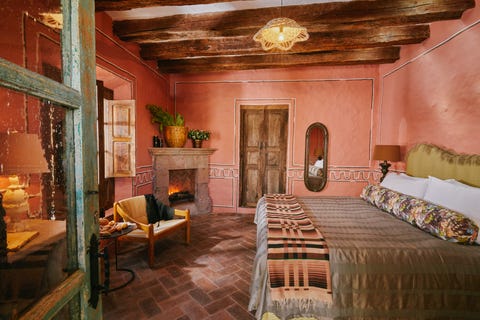 Juana, is one of three guest rooms housed inside Mesón Hidalgo. MESÓN HIDALGO
The designer was a part of every facet of opening this house on Hidalgo (hence the name) and built the brand from scratch complete with creating the graphic language, verbiage, and the marketing approach, along with designing many of the pieces that reside inside the rooms and common areas.
The Mesón Hidalgo Experience
"Our imagined traveler that stays with us is well-traveled and has been to Morocco, Milan, and New York, and when they come here, they want to have a distinct experience," says Kirar. "This is why we say that Mesón Hidalgo is a house like no other because it really is super unique with its own person and point of view."
Kirar says because of the guest house's small size and unique personality, the most important thing Mesón Hidalgo offers to guests is individualized service. Her team has a long conversation with each guest to determine the type of experience they are looking for at both the guest house and the city of San Miguel, orchestrating anything from private dinners on the terrace with live music to proposals on a hot air balloon over the city to exclusive experiences with San Miguel's talented artists and craftspeople.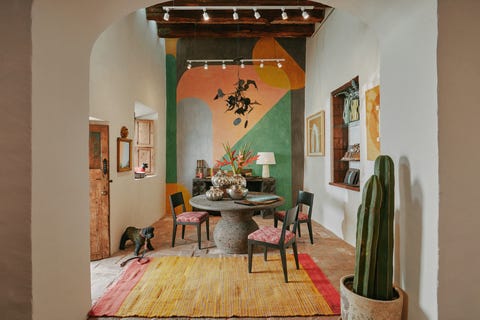 El Estudio is one of three shops featured within the plaster-lined halls of the guesthouse. MESÓN HIDALGO
"We really go out of our way to make the stay everything that the person visiting wants it to be," says Kirar. "We really do want people to feel like they are staying in their home and that's the level of service we always want to have."
Mesón Hidalgo is also home to three retail spaces and occasionally hosts pop-up shops. The shop at the front is Carla Fernández, a famous contemporary women's fashion brand out of Mexico City that works with indigenous communities and artisans while designing with sustainability in mind. Xinū is a fragrance destination based in Mexico that only uses the highest quality botanical ingredients from around the country. Kirar's El Estudio is full of pieces she's collected over the years or has made with local artisans, from pottery to handbags and placemats.
Mesón Hidalgo often hosts workshops with the artisans Kirar collaborates with to bring their designs to life, educate visitors on Mexican craftsmanship, and give the artisans a wider platform that will inspire them to continue honing their craft.
"Everything has come full circle to what I wanted to do 10 years ago, and I've now created this platform and marketplace that I hope will encourage others," says Kirar. "It's a movement at this point that a lot of amazing designers—ex-pats and Mexican alike—are working here in Mexico, and it's really encouraging a positive evolution and better business practices working with the indigenous craftsperson. I am just one little part of the movement happening here but am really proud of what we do at Mesón Hidalgo."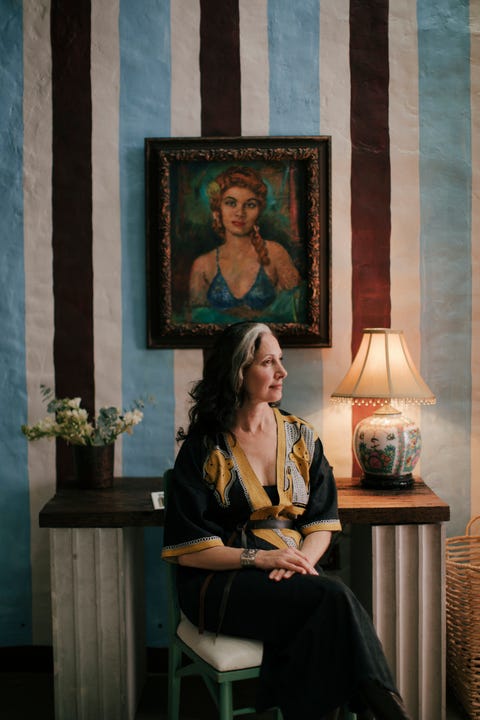 Kirar in the Chana room. MESÓN HIDALGO
The guest house just celebrated its second anniversary back in November 2021, with most of its operating days taking place during the COVID-19 pandemic. Even in the midst of this uncertain time, the San Miguel Post reported that interest in this design-centric destination continued to rise throughout 2020 despite ever-changing travel restrictions, which speaks to the incredible creative vision and unparalleled hospitality of the place.
"Mesón Hidalgo has really been a dream of mine and my husband's because we've always collected things, and creating environments and experiences for people are things we've always loved to do," says Kirar.
"To do so in the last two years, a period that has been very uncertain in the world, an create a place that was our own and that we could make into the most interesting, historical, and unique environment for people that we could, that just brought so much happiness. Pulling people out of the reality of the world into the reality we've created is an amazing feeling, and you know they will remember it forever."
LAUREN WICKS is the Associate Digital Editor at VERANDA, covering design trends, must-have products, travel inspiration and entertaining.