Noriteru Fukushima was in León, Dolores Hidalgo, and the state capital, where he even ate mining enchiladas
Noriteru Fukushima, Japanese ambassador to Mexico, made a working visit to Guanajuato where he took the opportunity to get to know some municipalities of the entity, such as León, Dolores Hidalgo, and the state capital.
Through his Twitter account, Noriteru Fukushima announced that he arrived in the state during the course of Monday and went to León, where he met with the Consul of Japan in León, Katsumi Itagaki, to see the situation in which are the Japanese who live in the entity.
Noriteru Fukushima commented that he visited León because that is where they have the only Consulate General in Mexico and explained that his visit to the state is important since five thousand Japanese live in Guanajuato, who work in one of the 660 companies that exist in the entity.
During his stay in León, the Japanese Ambassador in Mexico took the opportunity to visit the Historic Center, the Cathedral, and the Municipal Palace.
On Tuesday, Noriteru Fukushima traveled to the capital city of Guanajuato, where in addition to making his work visit, he took the opportunity to attend the Hidalgo Market, where he presumed to have eaten some traditional mining enchiladas.
In addition, he toured the alleys, tunnels, as well as visited El Pípila. Later, the Japanese official went to Dolores Hidalgo to continue his work tour of the state.
Noriteru Fukushima is Mexican by birth, but when he was a child his parents, who were originally from Japan, returned to that country, where he grew up and developed a large part of his life.
Famous on social networks not only for his diplomatic position but for his simplicity, the Japanese ambassador to Mexico, Noriteru Fukushima, was also in Querétaro and showed off Los Arcos, La Congregación and our alleys: "I would like to walk these alleys of #Querétaro again. There is a new #fujitaya hotel with a big open-air bath, Japanese style, and #Izakaya_Goen. Very tasty!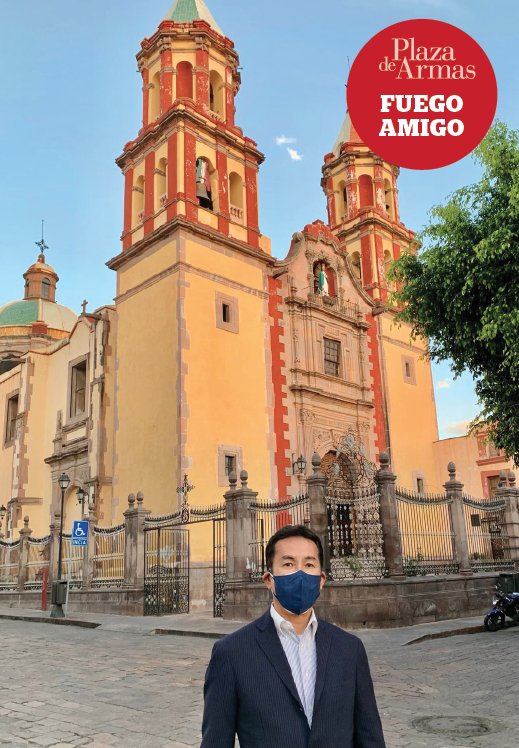 Ambassador of Japan unseats Christopher Landau on social media
Social network users were quick to react to the impressions of the Japanese diplomat, referring to him as the "most awesome ambassador" of the networks.
"Before @ChrisLandauUSA was the most awesome ambassador on the networks. But @embjpmx is here. Long live Japan!" Twitter user El Robert wrote.
This generated an almost immediate response from the former head of the United States Embassy in our country, Christopher Landau, who responded with a GIF in which producer Simon Cowell is observed with a gesture of disapproval and the phrase "no mames wey". 
" I decided to be a diplomat to return to Mexico," the Japanese Ambassador to Mexico, who has held this position in the country since December 12, 2021, said in an interview for Canal Once.
His real name is Noriteru Jaime Fukushima Iriteru, as it is stated in his Mexican birth certificate, which also states that he was born on August 27, 1958 at the Santa Mónica Hospital, at 210 Temístocles Street, in Polanco.