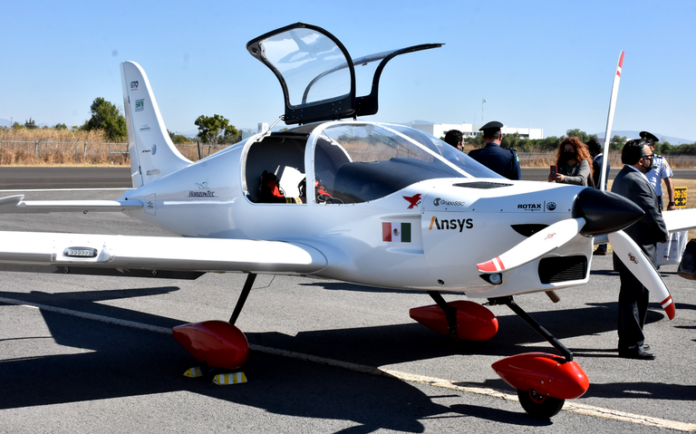 The Halcón 2 aircraft, built by IPN and Conalep graduates for the Mexican company Horizontec, took off from Celaya, Guanajuato.
This Monday, July 4, became a historic date for Mexican aviation. The Halcón 2, a 100% Mexican plane made in Guanajuato by engineers from the National Polytechnic Institute (IPN) and Conalep technicians, successfully made its first official flight.
Around noon, the aircraft built for the Mexican company Horizontec took off from the Celaya airport. In command was the aviator pilot José Javier Barbosa Castro, according to the local media outlet El Mexicano.
In a ceremony presided over by the governor of Guanajuato, Diego Sinhue Rodríguez Vallejo, the plane managed to fly for about 10 minutes and landed without incident, as shown in a video shared on Facebook by the official.
How is the Falcon 2?
It is a two-seater sports plane with a series of interesting features that make it unique in its kind. One of them is that the Halcón 2 uses a Rotax 915 engine, which runs on 98-octane premium gasoline, that is, the same as a car. This significantly reduces the cost per flight hour and makes it more affordable. In addition, it has flight autonomy of up to 6 hours and will be sold for between 120 and 160 thousand dollars.
"The project was born in 2015, it was born with a very simple vision, we wanted to achieve an excellent product using new technologies. I am referring above all to carbon fiber or epoxy resin, lightweight materials and new digital tools. When I talk about digital tools, I mean design software programs", said Giovanni Angelucci , director of Horizontec, in statements collected by Publimetro.
Halcón 2 is preceded by Halcón 1, which made its first flight on September 30, 2017, and received its certification from the Federal Civil Aviation Agency (AFAC) on March 4, 2020.
The future of the 100% Mexican aircraft
This flight was only the first of 50 that the Halcón 2 must complete obtaining certification from the Ministry of Communications and Transportation and other aeronautical authorities. Once it has all the required licenses, the company plans to start serial production of these planes. This would be tentatively next September, and they would manufacture up to 20 units a year according to their projections.
The Halcón 2 will be at the Celaya airport and, due to its lightness, it will be used for recreational flights, as well as surveillance and security tasks. However, its main role will be pilot training and the company has already committed 18 aircraft to a local school.
This aircraft represents the first stage of Horizontec, a company dedicated to the design, development and manufacture of aircraft. His idea is to start building bigger airplanes made by Mexican hands soon.
Here we leave you the complete video of the historic first flight of the Halcón 2: