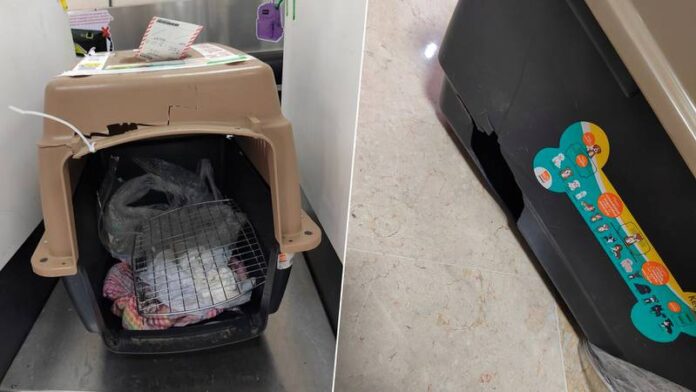 Poor Doggie: VivaAerobus delivers passenger's pet on another flight and with a broken box
A Twitter user accused VivaAerobus of delivering her pet hours after its arrival inside a broken carrier.
Complaints against airlines for acting negligently to transport their users' pets are frequent. A new case was reported at the beginning of the week by a Twitter user, who accused VivaAerobus of forgetting to take her dog on the flight where she was traveling and delivering her hours later in terrible condition.
The user @Sanrmzmarg told through a Twitter thread that on December 21 she took flight VB1268 from Mexico City to Torreón with the airline VivaAerobus. Sabrina would travel with her, her dog that she delivered an hour before boarding, in perfect condition.
However, upon reaching his destination, he realized that Sabrina's box did not appear in the baggage band. When asked, a manager told her that her pet had stayed in the capital. "I think they forgot to put your dog on the flight you were on, but ntp (don't worry) notified us immediately and we already put your dog on another flight, but from another airline different from us," he replied.
Sabrina was sent on Aeroméxico flight 102 arriving at 10:20 a.m. The person in charge asked the user to take her seat since there were still two hours left before her pet arrived. The flight arrived on time but the dog took another half hour to leave. Seeing her she realized that his Kennel carrier of hers was broken, strapped down, and wrapped in plastic. Even the baggage attendant reacted, "did you deliver it like this?", he asked surprised.
Fortunately, Sabrina did not present any damage, but that did not make the user feel calmer, who warned about the risks of traveling with pets on both airlines.
" What a horror they put me through and the anguish of waiting for Sabina to arrive safely. It cannot be possible that they do not have the necessary concerns so that our pets arrive safely. When will they understand that they are not only animals, it is our family, "she wrote.
VivaAerobus will provide reimbursement for mistreated pets
After the facts, VivaAerobus told the user that they will contact her in four days, that is, on December 25, to give her a full refund of Sabrina's flights and pay for her carrier.
"Hello Blanca. Thank you for reporting what happened, this type of situation is very important to us because we know that your pet is part of your family. Please, tell us your reservation code via DM to provide you with assistance from this medium. Pay attention," they wrote in a tweet.