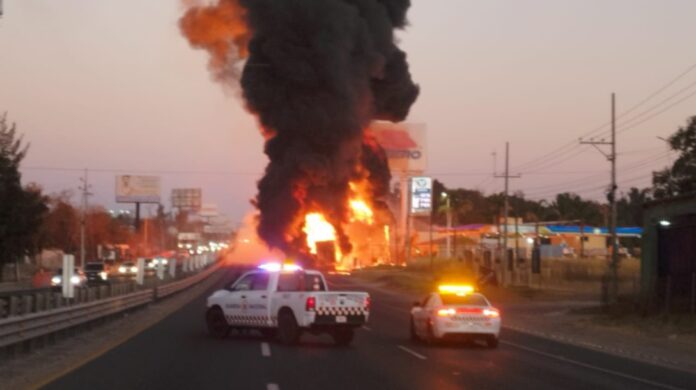 On Saturday, February 4th, the collision between a fuel pipe and another vehicle was recorded on the Silao-León highway, which caused a road closure in both directions from Santa Ana del Conde to the municipality of Comanjilla, in Guanajuato.
The images of the shocking fire are already circulating on social networks, as well as videos of how the flames consumed the heavy unit.
Through its social networks, the Secretary of Public Security of the State of Guanajuato pointed out that various institutions of the emergency and security forces, under actions coordinated by the State Civil Protection, fought the fire of the tanker truck for a couple of hours. 
Incendio de 2 Vehículos entre estos explosión de una pipa de Diesel en la Leon-Silao por el entronque a Comanjilla.🔥🔥🚒🚒 pic.twitter.com/XEddfxCK0m

— Vulcano-7 (@vulcano_7) February 4, 2023
The agency indicated that the events occurred at approximately 7:30 a.m. on one side of the boundary of federal highway 45, in the direction of Silao to León, near the junction with the highway to the community of Comanjilla: "At that point, A tanker truck with a capacity for 33,000 liters of fuel caught fire, so in attention to reports to 911, immediately theState Civil Protection Coordination dispatched its Fire Department."
⚠️ ⚠️ ⚠️
POR INCENDIO DE PIPA
CARRETERA 45 BLOQUEADA EN SENTIDO SILAO LEON EN LOS SAUCES pic.twitter.com/N9143QUgHF

— TAxis de León MX 🚕🇲🇽 (@ReporTAxiLeon) February 4, 2023
The pipe fire was registered at the entrance of a gas station located a few kilometers from the Kenworth company and according to the first versions, it would have collided with a trailer. The emergency units of Silao and León arrived at the place to attend to the report and the place was cordoned off by municipal and state police and elements of the National Guard.
Source: El Heraldo de Mèxico