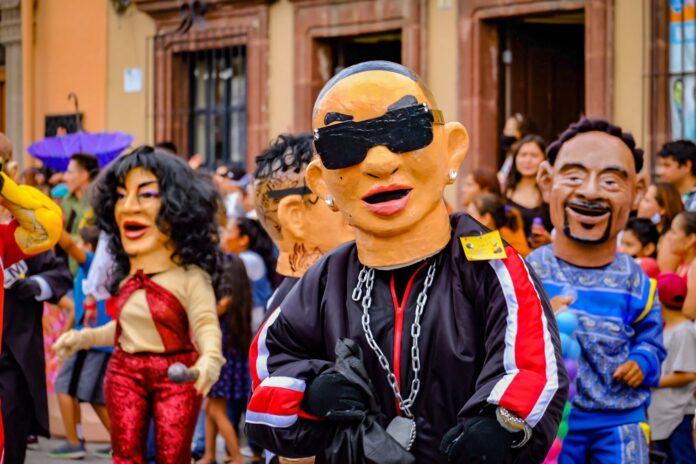 Prepare your costume! The Convite de Locos 2023 is coming in San Miguel de Allende and it promises to get better than ever.
As every year, funny characters from television, superheroes straight out of comics, aliens and monsters from Hollywood movies, as well as the occasional parody of national and international political figures will take to the streets of beautiful San Miguel de Allende, in one of the most anticipated celebrations in the Guanajuato: the Convite de Locos 2023.
The Convite de Locos 2023 takes place the first weekend after the feast of San Antonio de Padua that is celebrated on June 13, which is why this coming June 18 you cannot miss the passage of an increasingly numerous caravans of participants who, gathered around the exit to Celaya, advance –from 10:00 a.m.– through the main streets of San Miguel until they reach Cuna de Allende. In this space, hundreds of spectators await the arrival of the parade to applaud and celebrate the most original outfits of the "crazy" who, in turn, have to pay for the public's acceptance by throwing all kinds of sweets and gifts.
The tradition is that attendees carry an umbrella that they put in reverse to capture the greatest amount of sweets.
So if you like fun and enjoy the most daring costume proposals, you cannot miss this unique event that, … you will really love it!
In addition, once it is finished, you will be able to enjoy the wonders that this corner of Guanajuato, recognized as a World Heritage Site by UNESCO, offers: colonial architecture, cosmopolitan atmosphere, good food, and endless souvenirs or handicrafts. Throw yourself into San Miguel de Allende and dare to live a day… on the brink of madness!
History of the Convite de locos 2023
This tradition is born from the dance of the hortelanos, which was danced in honor of San Isidro Labrador and San Pascual Baylón. Because people gathered to see the dance and were not allowed to dance, men dressed as scarecrows began to be included in it, to scare the curious, so that they would open space for the dance; these characters began to be called "crazy".
Already by the 19th century, the costume of the madman evolved into colorful clown costumes, with panties and cardboard or wooden masks. At present the costumes are as varied as the imagination allows.
Recommendations to attend
If you decide to attend, wear comfortable clothing and shoes, use sunscreen, and stay hydrated. Remember that the main streets will be closed, from 9:00 a.m. to 5:00 p.m. m., so we recommend using alternate routes to reach your destination and/or in case your hotel is within the area of the tour and you need to check out. For your safety and that of others, avoid pushing people around you, so that your experience is the best.
Source: Mexico Desconocido