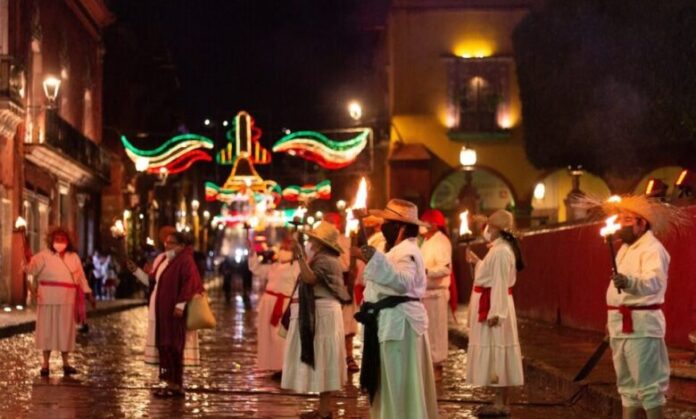 San Miguel de Allende is a magical city that you can visit with your family and if you are romantic to enjoy several days or as part of a weekend getaway.
Walking through its cobbled streets you will find a wide variety of craft shops and art galleries where workshops are offered.
Without a doubt, this colonial city offers a historical tour in every corner because its richness is not only cultural, but also gastronomic and architectural.
That is why it has become one of the most distinguished places worldwide. San Miguel de Allende, Guanajuato, was recognized as a World Heritage Site in 2008 by UNESCO.
This tourist destination is located near cities such as: Guanajuato and Querétaro. Also, if you are in the area, you can visit other destinations such as: Atotonilco, in the region known as Los Altos de Jalisco, or San José de Iturbide, with its picturesque streets.
Tourism in San Miguel de Allende: What to do one day?
When you arrive in the city, the first places you should visit are the Historic Center to admire its impressive church: the Parroquia de San Miguel Arcángel.
San Miguel de Allende, Church.
It is considered one of the most beautiful temples in Mexico, it was built from 1880. Its builder was Zeferino Gutiérrez who was inspired by European Gothic works, explains the Government of Mexico.
In front of the church is another iconic place: Plaza Allende, also known as Jardín Principal. On this site the first city council of independent Mexico was established.
If you walk through the streets of the Historic Center, in addition to this church you will find the Temple and Convent of San Francisco, the Temple of Nuestra Señora de la Salud, the Temple of La Concepción, among others.
Visit the Gruta Spa
One of the places that has gained popularity in recent years is the Gruta Spa, so if you are looking to relax and forget about the routine of the city, this is the best option to consider during your trip.
La Gruta Spa is the ideal place to relax and take a break in San Miguel de Allende.
It is on the highway towards Dolores Hidalgo. If you go by car, the journey will take you 10 to 15 minutes. In case you need it, some busroutes also leave from the San Miguel de Allende bus station.
La Gruta Spa is a thermal water spa, where skin, relaxing and facial treatments are also offered.
Hours are 7:00 a.m. to 5:00 p.m. Wednesday through Sunday.
Vineyards
San Miguel de Allende has several vineyards around it.
One of them is ¡Viva la vid!, whose location is only 15 minutes from the city. It offers a spectacular landscape for wine lovers and tours to learn about this process.
From June begins the season of sales with the traditional treading of grapes, there are also tours, wine tasting and restaurant.
Artisan market
In San Miguel de Allende you will find an endless number of handicrafts such as jewelry, toys, to decorate your home or simply carry a souvenir of this city.
In the market there are wool items such as rugs and shawls, as well as brass and sheet mirrors; lamps are also made with these materials. You will find the market at the corner of Colegio and Ánimas streets.
Hotels to stay in San Miguel de Allende: Cost per night
Most of the hotels are in the Historic Center, so it won't be hard to find one. Among the options that you can consider are:
Villa Mirasol Hotel
The price of the standard room is 2,360 pesos per night and has a view of the city, internet access, cable TV and other amenities.
The room has two double beds, as well as a small hall and is located inside a house converted into a hotel, so it preserves its colonial style. Locating this hotel is easy, since it is located in the center of the city, on Pila Seca street.
Hotel Mision Estancia San Miguel de Allende
A standard room has a price range that goes from 978 pesos to 1,598 pesos, which will depend on the availability of the rooms, the season in which you go, and the services requested.
If this hotel catches your eye, the ideal is to arrive by car because its location is close to the highway, and it is a little further from the historic center.
In which restaurants in San Miguel de Allende can you eat?
If you would like to try the local gastronomy, the best option is the San Miguel de Allende market, where you will find breakfast and lunch.
One of the typical dishes that you can eat are the mining enchiladas.
Inside the market and in some streets, you will find sellers of corn and esquites (or as they call it there: 'corn in a glass'), whose red sauce is made with chile de árbol, which gives a special touch to this Mexican appetizer.
In case you are looking for a restaurant, one of the options is Hecho en México, which offers typical Mexican food and also has an international menu.
Prices range from 115 pesos per dish to 425 pesos for one of the dishes on the international menu.
Office hours are from Sunday to Thursday from 12:00 to 22:00, Friday and Saturday from 12:00 to 23:00. The address is Ancha de San Antonio 8, in the downtown area of San Miguel de Allende.
What is the best time to go?
Whether you decide to do this tour to San Miguel de Allende for a weekend or several days, you will enjoy a temperate climate, which dominates most of the year and reaches up to 28 degrees as a maximum and minimum temperature of 13. During December and January, the temperature decreases, the average being between 5 and 21 degrees.
Cultural festivals take place throughout the year, including the International Festival of Music, Jazz and Blues; Puppetry; Festival of Writers and Literature; Calaca Festival, Guanajuato International Film Festival, among others.
Also in December, prior to the Christmas season, there are open-air cultural festivals and, in some areas, even traditional posadas are held.
Nor can you miss its traditional lighting to further embellish this colonial city, as well as the Christmas bazaars.
Among other important festivities in San Miguel de Allende are:
Feast of the Patron Saint Saint Michael the Archangel.
Santa Cruz.
Festival of the Lord of the Conquest.
Convite de los Locos, to celebrate San Antonio de Padua on June 13.
Sanmiguelada, it is the third Saturday of September and there is a running of the bulls in the Pamplona style.
National Holidays.
Jazz Festival, which takes place the last week of November.
 Source: El Financiero