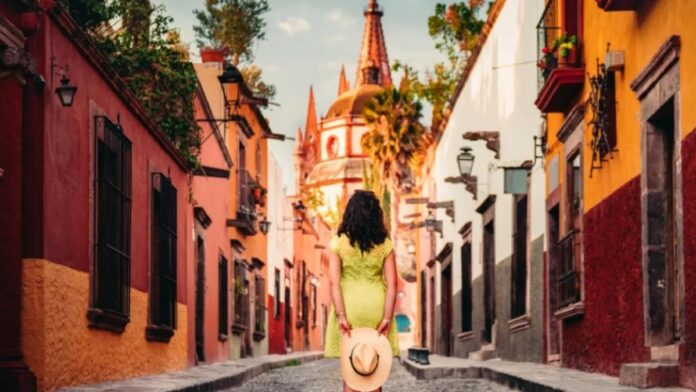 San Miguel de Allende is a place brimming with art, culture, food and style, making it an exceptional photography destination. 
One of the essential places to capture in your photos is the Ignacio Ramírez "El Nigromante" Cultural Center, also known as Fine Arts.
Here you will find plastic arts exhibitions, workshops in various disciplines such as piano, ceramics or dance, a bookstore and a cozy cafeteria.
The building is part of the Convento Real de la Concepción, but for many years it was known as the Convento de Las Monjas.
It preserves a beautiful cloister, now converted into a beautiful patio with a fountain surrounded by vegetation, ideal for taking pictures.
Don't miss the murals, especially "Life and Work of Generalissimo Ignacio Allende", a spectacular work by David Alfaro Siqueiros in a 550-square-meter vaulted space.
The lines embodied by this Mexican muralist will impress you with their geometry and color; It is one of the obligatory stops to take photos.
Parish of San Miguel Archangel
The famous parish of San Miguel Arcángel, located in the heart of Jardín Allende, is the ideal place for your souvenir photo, it is enough to find the best angle for the image to be perfect.
Known for its impressive neo-Gothic façade, the church has a curious history, as its original construction dates to 1880 and was inspired solely by postcards of the Cologne Cathedral, Germany.
Places in San Miguel de Allende that cannot be missed
San Miguel de Allende also offers terraces with amazing panoramic views, one of them is Terraza La Vista, located on the rooftop of the El Golpe de Vista hotel, it is an excellent choice.
From here, you will have an alternative take on the famous parish, surrounded by the colorful houses and the green of the mountains in the rainy season.
Finally, do not forget to photograph the picturesque streets of San Miguel de Allende, its cobbled, colorful and winding streets tell the history of the city and the life of its inhabitants.
Calle de Relox, with its shops, hotels and restaurants, offers a direct view of Jardín Allende.
Calle de Canal, with the yellow walls of the Convent of the Immaculate Conception, and Calle de Aldama, framed by streets, flowers and terraces, are other photogenic options that you cannot miss.
Prepare your camera and enjoy the experience of capturing the unique essence of San Miguel de Allende.
  Source: Top Adventure