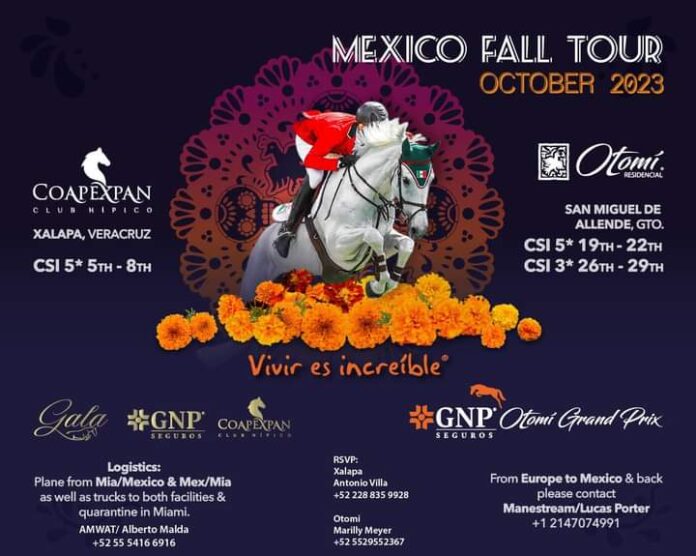 Great and exciting moments will be experienced in the Mexico Fall Tour CS5 Estrellas GNP Seguros Otomí Gran Prix in San Miguel de Allende, Guanajuato, which will bring together the 50 best riders and horsewomen in the world, who will give a great equestrian show.
This event will take place in two venues, the first is at the Coapexpan Equestrian Club in Xalapa, Veracruz; and the second in San Miguel Allende, Guanajuato, from October 19 to 30, where the third illuminated grass runway in the world is located. "For the first time, at the Otomí Equestrian Club we are doing an invitational: we cover all the expenses for the 50 best riders and horsewomen in the world to accompany us. Some of them have not come to Mexico, because their circuits only take place in Europe and this is a great opportunity for them to travel and for the Mexican public to get to know them," explains Humberto Pacheco, Public Relations Director of the event.
Being a friendly meeting, each rider and horsewoman will have a different pressure and it will be possible to measure it in a different way, because it is not under the title of any series, as on other occasions. "This is a competition of friends. The selection of participants was made based on the international ranking. On this occasion they will jump a maximum height of 1.60 meters, which gives the opportunity for other competitors, who have not been on that list, to measure themselves against the best in the world. Fortunately, we have had a great response," adds Pacheco.
The jury will be made up of members of the International Federation and will be endorsed by the Mexican Federation, which will give it official validity. Some of the judges are Norma Rodriguez, Carola Walls, Adriana Sánchez, Beatriz Pino, Matilde Negrete and Arlene Michan; Dalene Paine participates as a foreign judge. The final prize is $15,135,000.00 pesos.
Source: Excelsior