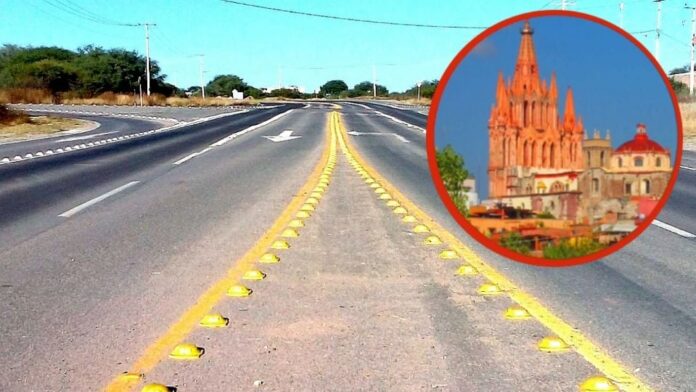 The government of Guanajuato will invest more than 3,000 million pesos for a total improvement of that road that connects those 2 colonial cities with a high tourist vocation
Guanajuato.- The government of Guanajuato announced the start of the modernization of La Libertad Boulevard, which connects the municipalities of San Miguel de Allende and Dolores Hidalgo. An investment of more than 3,000 million pesos is considered for this 30.7 kilometer stretch belonging to federal highway 51.
This work, carried out by the State Secretariat of Infrastructure, Connectivity and Mobility, will speed up the movement of thousands of users who daily circulate along this road that unites the two colonial cities with a predominant tourist vocation.
This Wednesday, October 11, the SICOM ruling committee declared the Guanajuato company VISE the winner, which will be in charge of carrying out the work, which includes an amount of 3,025 million 583,726 pesos and a period of 365 calendar days for its completion.
Tarcisio Rodríguez Martínez, Secretary of Infrastructure, Connectivity and Mobility, said that, after the ruling, the stipulated date for the start of work would be October 19, 2023.
This work will be carried out with state resources and is considered essential to promote tourist activities not only in San Miguel de Allende and Dolores Hidalgo, but in the entire region, in addition to improving travel times and contributing to the road safety of residents of the area.
The work considers a road with 4 traffic lanes, two in each direction. In a length of 30.7 kilometers, with a bearing surface based on hydraulic concrete.
It will have a cycle path
La Libertad Boulevard will have a total width of 28.50 meters, considering four lanes of 3.50 meters each, a central separating strip of 2.0 meters, internal shoulders of 1 meter on each side and external shoulders of 3.0 meters on both sides.
On the left side of the road there will be a 1.50 meter separator strip and a 3.0 meter bidirectional cycle lane, with 1.50 meter lanes in each direction.
The modernization of La Libertad Boulevard includes the construction of 4 vehicular bridges over streams, 1 railway overpass, 4 level returns, 4 vehicle returns with lower caissons, 2 at-grade junctions and 6 pedestrian crossings (5 upper and 1 lower).
The installation of public lighting along the entire highway, from San Miguel de Allende to Dolores Hidalgo, is also considered, in addition to the placement of operational signs and urban image that contemplates the colonial aspect of the two cities that the road links; He added that side roads will also be constructed in some subsections.
Source: La Silla Rota