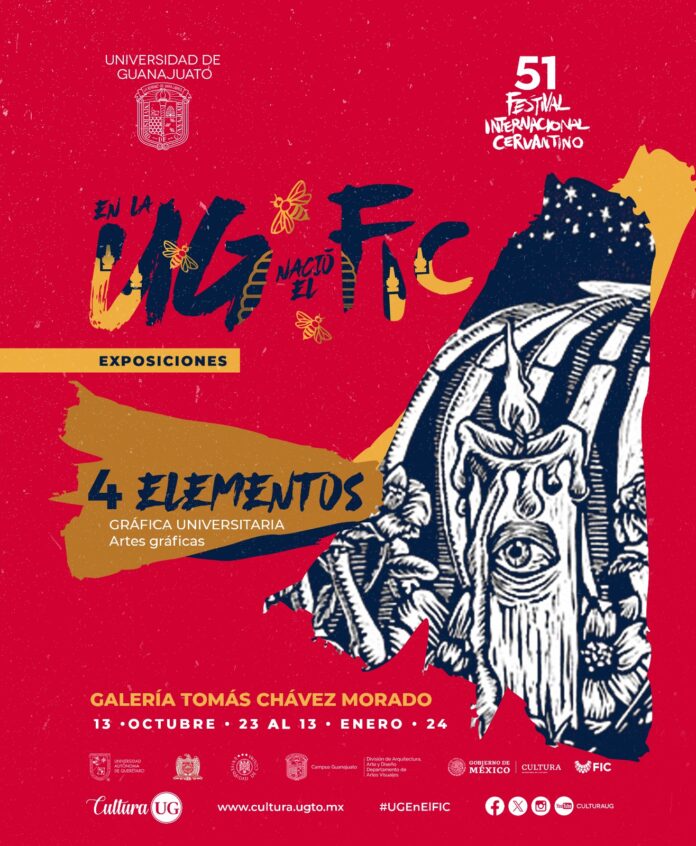 The University of Guanajuato continues its activities inside and outside the International Cervantino Festival, with a large number of activities for all tastes.
– October 22 at 9:00 p.m. at the Juárez Theater, the UG Symphony Orchestra (OSUG), will present Piano Concertos no. 2 and 4 of Rachmaninoff.
– October 21 and 22 at 8:00 p.m. in the Catacombs Mesón de San Antonio, the Teatro Universitario will present "Jovial Altarpiece."
– October 26 and 27 at 9:00 p.m. in Plaza San Roque, the University Theater will present "Entremeses Cervantinos".
– October 28 at the Esplanade of the Alhóndiga de Granaditas, Trey Mclaughlin and The Sounds of Zamar and the UG Choir will perform.
Cine Club continues with its presentations, consult the program at www.cultura.ugto.mx
You are invited to the exhibitions for free:
– "4 elements. University Graphics", at the Tomás Chávez Morado Gallery.
– "Al Hirschfeld. Legend in line", in Galería Polivalente.
– Ernesto García Cabral presents "Stars of Showbiz" at the Hermenegildo Bustos Gallery
– "Fábula" by Berenice Arnold will continue in the Jesús Gallardo Room.
– Hester Stinnett and Ron Abram present "The personal is printed / Lo personal se imprime" at the UG Museum (MUG).
– "The poster in the contemporary culture of the United States of America", continues at the El Atrio Gallery.
Cultural impulse and promotion
-October 27 at 6:00 p.m. at the Salamanca High School, the traditional "Catrinas Parade" is invited.
You are invited to the talks that will take place at 2:00 p.m. on Facebook Live @Cultura UG:
– October 24 "Recycling of greenhouse agroplastics", by Doctor Lorena Eugenia Sánchez.
– October 25 "Use of agri-food waste: biofuels and organic acids", by Doctor Guillermo González Guerra.
– October 26 "Optimization, the challenge of designing a new process", by José Julián Herrera Velázquez.
Reading promotion and activation
Series of talks Literary afternoons presents "Daisy Rubiera Castillo", with Arianna Egües Cruz this October 25 at 6:30 p.m. at the UG Bookstore.
Poetry Circle Out Loud presents "Flor de papel", every Thursday at 4:00 p.m. in the MUG Reading Room.
Exhibition "Siervas" by Carlos Castañeda will continue until November 10 in the San José El Copal Exhibition Hall. Free access.
Painting and drawing classes on Tuesdays and Thursdays at DICIVA. Reports: [email protected]
October 25 at 12:00 p.m. at the Forum headquarters will be the opening of the exhibition "The Earth Even in the Bones" by Raúl Macías Frausto
At the "Barrio Arriba" university located on Calle Aquiles Serdán and 20 de Enero, León, you are invited:
-October 27 from 4:30 p.m. to 6:30 p.m. to the "Sowing Seeds of Peace Workshop" taught by Rosa Olivia Serrano Sánchez. Registration and further information: [email protected]
Until October 31, from Monday to Friday from 10:00 a.m. to 5:00 p.m., there will be the photographic exhibition "The tannery in the neighborhood."
At Univerciudad "Nigromante" located at Umarán 38, downtown area, San Miguel de Allende, guests are invited:
Ceremonial tortilla making workshop by traditional cook María del Consuelo Venencio Mesita this October 24 from 3:00 p.m. to 6:00 p.m. Registration and further information: [email protected]
Workshops
The University Chess Club invites you to its public sessions on Mondays and Wednesdays from 5:00 p.m. to 8:00 p.m. at the Mesón de San Antonio.
More information and box office at www.cultura.ugto.mx. Program subject to change without notice
Source: Zona Franca