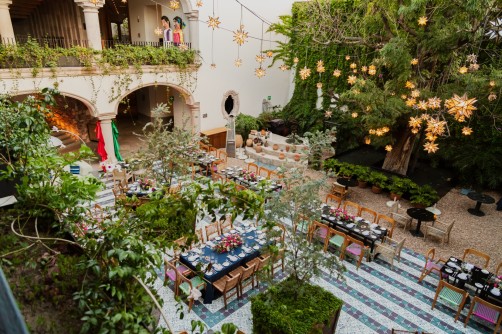 The postcard is unforgettable: in the foreground, the colossal sculpture of a head lies at the foot of a staircase that leads to wide open doors, equally monumental. There, in the break before entering the Live Aqua San Miguel de Allende hotel, a female student cheers up the sunset by singing "Nel blu dipinto di blu", by Gipsy Kings; A wedding couple, also giants (represented by elegant mojigangas) dances and encourages the guests. This is the atmosphere at a wedding held in San Miguel de Allende, Guanajuato.
In the words of Julieta Hernández, regional director of Sales/Resorts for Grupo Posadas, urban destinations stand out in the preferences of travelers who want to celebrate a wedding away from home. "Urban destinations, colonial cities and haciendas are gaining the attention and interest of couples. Frequently requested non-beach destinations include San Miguel de Allende, Querétaro, Mérida, Mexico City, Guadalajara and Monterrey."
This trend, explains Hernández, responds to the fact that couples and their guests seek to add experiences to their trips, and therefore, they combine the wedding celebration with an itinerary of activities that add value to the visit.
In San Miguel de Allende, one of the most prominent tourist destinations in Mexico, creating an itinerary rich in moments is not a major problem for wedding specialists based in the destination. Flor de María Guzmán, social events manager at Live Aqua San Miguel de Allende, provides an overview of national and international weddings held in the city. "Weddings are celebrated throughout the year, with a tendency to use more weekends, but with the option of getting married during the week, finding benefits that help in determining the budget."
She adds that the number of guests at an average wedding in San Miguel de Allende ranges from 100 to 150 people, however, it is also common to observe celebrations with more than 300 guests. One trend that remains, she adds, is more intimate wedding celebrations. "It is very likely that international weddings stay an average of three to four nights, while for national weddings it becomes a road destination, where the stay can be only two nights."
What are the main activities to do at the destination as part of a wedding? The specialist recommends choosing experiences that allow you to absorb the essence of San Miguel de Allende, being essential a guided tour of the city, with strategic stops that allow you to enjoy the art and culture that adorns its streets. She also suggests taking the wine route, whose experiences include pairings and walks among vineyards; in addition to accessing wellness treatments and visiting the nearby hot springs. Finally, she mentions other experiences that usually materialize travel desires, such as horseback riding, ATV tours or hot air balloon trips.
The key advice, Guzmán points out, is to access a professional truly specialized in wedding celebrations in San Miguel de Allende to ensure "that the couple enjoys themselves from the first day; that she allows us to advise them and make the process comfortable and even fun. It is very important that the couple share with their wedding specialist every detail of information that allows us to have a clear understanding of the project and fluid communication."
Source: Forbes