"I am going to these states because they have the toughest problems with violence and especially homicides," Lopez Obrador said. "I am going to support the people with my presence and tell them that despite the public, notorious differences we have with the state governments, this is a matter that concerns everyone and we have a duty to act together."
Mexico's president has swung between blaming governors for the country's problems — at times even accusing them of being in cahoots with cartels — and embracing them.
But at his first stop Wednesday in Irapuato, Guanajuato, the message was cooperation and coordination.
Gov. Diego Rodriguez announced that he had started participating in the president's daily security briefings.
"If I want more coordination, I do have to do more on my part," said Rodriguez, adding that he began participating earlier this month four days after gunmen killed 27 men in a drug rehabilitation center in Irapuato.
A group in Guanajuato called "A Tu Encuentro" or "Finding You," which is fighting to find at least 135 people who have disappeared during the drug violence, released a video Tuesday asking for a meeting with the state's governor and the president on Wednesday. It called for the two to set aside their differences.
All three of the states are seeing vicious cartel turf battles.
In Guanajato, the Jalisco New Generation Cartel and the Santa Rosa de Lima gang are engaged in a fight that has left over 1,900 people dead in the first five months of this year, including the slaughter of the recovering addicts at a rehab center in Irapuato on July 1. According to Lopez Obrador, 70% of these killings occurred between criminal groups.
The federal government has installed National Guard barracks at several points in Guanajuato, but the Guard and the army just conduct periodic patrols. The tough work of investigating, serving arrest warrants and responding to emergency calls has been left largely to state and local police, who are clearly outgunned. In the first six months of this year, about 60 police officers have been killed in Guanajuato, according to the civic group Causa en Comun.
On Wednesday, Defense Secretary Luis Cresencio Sandoval Gonzalez said there were 7,500 National Guardsmen in Guanajuato and Lopez Obrador applauded a dramatic decrease in fuel theft in the state.
"The problem grew and has been allowed to grow, and we have to look at whether there has been collusion, that is, criminal conspiracy, between the criminals and officials," the president said after the massacre at Guanajuato rehab center.
While Lopez Obrador has pointed toward the opposition governors for the violence, the opposition cites his "hands-off" policy with cartels. In October, federal authorities ordered the release of a captured Sinaloa cartel leader after gunmen staged an attack to win his freedom. And homicides in the first year of his administration have run at about the same record levels of 35,620 as the last year of his predecessor's term.
Gov. Rodriguez, of the conservative National Action Party, said that "coordination between all levels of government is indispensable in order to reduce the violence."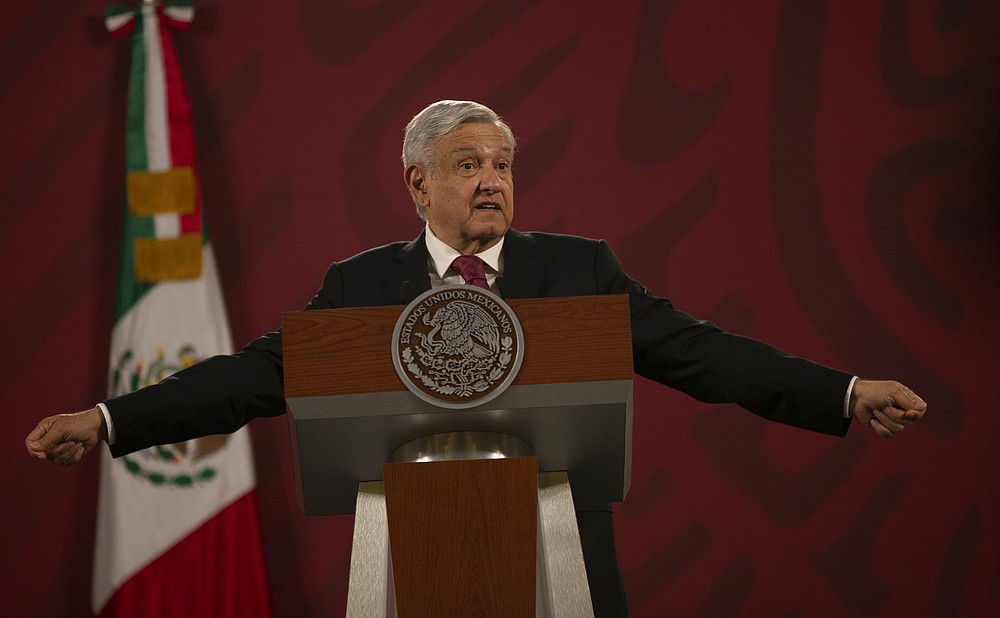 Mexico's President Andres Manuel Lopez Obrador gives his daily, morning news conference at the presidential palace, Palacio Nacional, in Mexico City, Monday, July 13, 2020. (AP Photo/Marco Ugarte)
Source: nwaonline.com
The Mazatlan Post