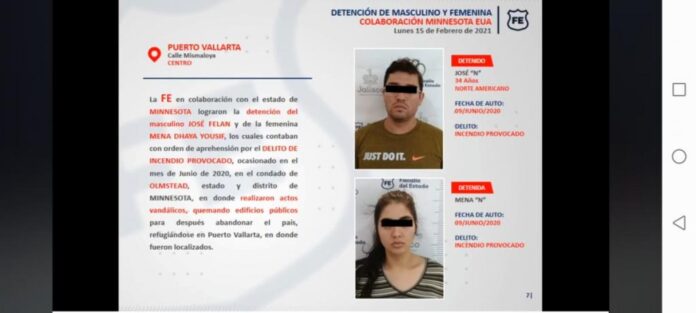 The State Attorney General's Office, through the international affairs office, managed to capture a couple who were wanted in the United States for the crime of arson, which vandalized public buildings.
The two, after the fact and knowing that they were wanted, left the country and came to take refuge in Mexico, right in Puerto Vallarta, where their capture was achieved, carrying out the corresponding procedures for the delivery of these to the authority that required them.
Attorney General Gerardo Octavio Solís Gómez pointed out in this case that collaboration was achieved with the state of Minnesota to capture the couple, who are accused of vandalizing public buildings.
He pointed out that through the international affairs office it was possible to locate the couple who were hiding in Puerto Vallarta.
The immigration authorities and the judicial authorities of that country achieved the retention and were reported and handed over to the requesting authorities in that country.
Source: tribunadelabahia.com.mx