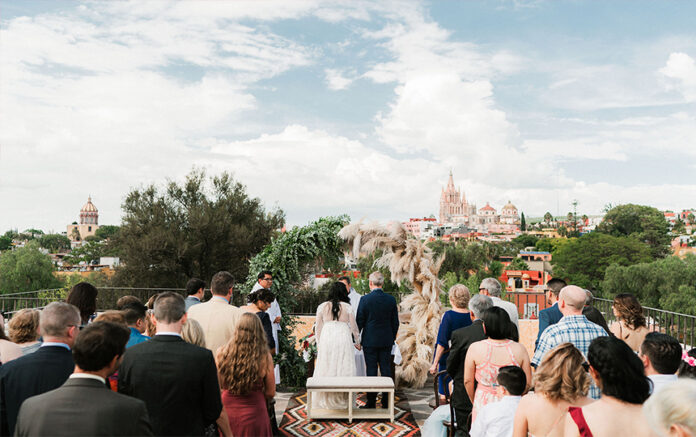 The PopUpWeddings concept is developed in the boutique hotel Dos Casas, in San Miguel de Allende. An ideal model for these times of pandemic
PopUpWeddings is a small-format wedding model that emerged in Portugal by the wedding planner Rui Mota Pinto, explained Guadalupe Álvarez from Penzi Weddings, a company that has been in charge of adapting this concept in Mexico and that arrived in San Miguel de Allende.
The idea came to fruition in the Dos Casas boutique hotel in San Miguel Allende, an ideal place for this type of celebration, according to the businesswoman Sandra Vázquez.
"The theme of romance, of wanting to celebrate and be with close people is not going to end. The desire to be with your partner and have a special celebration will always exist ", explained Sandra Vázquez.
In these times of pandemics, where mass celebrations have ceased to be popular due to a health issue, an experience such as PopUpWeddings has emerged as an ideal scheme to celebrate love.
Guadalupe Álvarez says that this type of wedding brings together 15 to 40 people because beyond 40 it would no longer be intimate. However, he explained that, in the case of the minimum, with two people, the contracting parties, it is more than enough.
"They are small weddings of up to 15 people that don't need a lot of planning. It's just the ceremony, the walk down the aisle, the makeup, the hairstyle, the first dance and that's it, "he explained.
On the planning times of this type of weddings, he pointed out that the parties can marry from one day to the next, if they wish.
"You can have a very well-scheduled celebration. Our hotel is a small, personal hotel, you can have your group of guests staying in the same hotel ", added Sandra.
Guadalupe pointed out that the Dos Casas terrace, where these ceremonies are held, is an idea for this type of event. In addition, the hotel has an award-winning restaurant on its menu and a Spa.
Penzi Weddings goes beyond event design. They are in charge of coordinating and solving each of the aspects of the wedding. From the photographer to the flowers, from the cake to the location. In the words of Guadalupe Álvarez, her experience and attentive ear will help clients create an intimate wedding through her wide network of providers that have everything necessary for the celebration.
"It can be done on a divine terrace that has two houses and you can go three or four days and enjoy with the guests," he said.
Those interested in having a wedding, reaffirming their vows, or simply a celebration of love can enter the pages of Penzi Weddings or Dos Casas where they can see the benefits of the place and the concept.
Source: amqueretaro.com