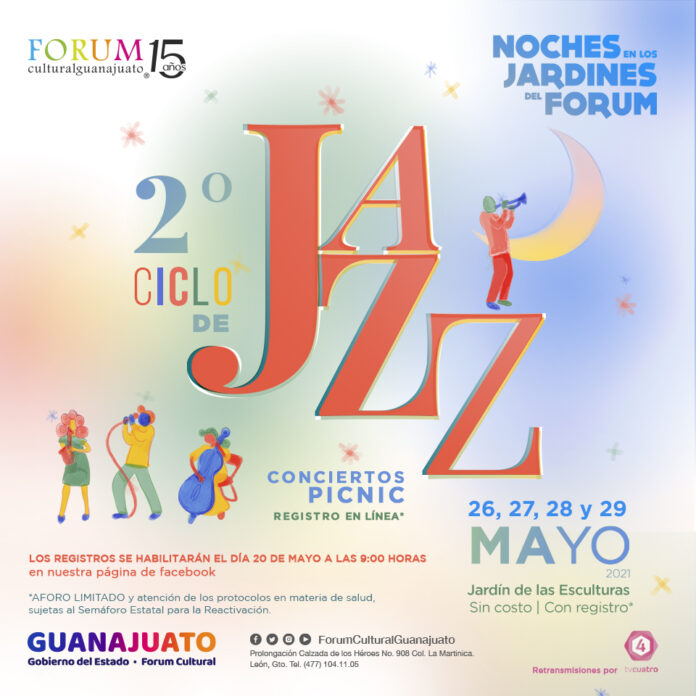 From May 26 to 29, in the Garden of Sculptures, four face-to-face concerts, limited capacity and online registration.
The public will enjoy the presentations of Adrien Brandeis Trío, Ingrid Beaujean Jazz Quartet, Les Femmes de Serge and Natalia Marrokin.
The registration forms will be activated on May 20 and will close automatically when the allowed capacity is met.
León, Guanajuato, May 7, 2021. From May 26 to 29, the Guanajuato Cultural Forum will present the 2nd Jazz Cycle, in person and with limited capacity.
The cycle will begin on Wednesday, May 26 with Adrien Brandeis Trio group led by the pianist, composer and arranger Adrien Brandeis accompanied by Giliard Lopes on double bass and José Loria Triay on drums. At just 29 years old, Adrien Brandeis has been awarded the prestigious LetterOne Rising Stars Jazz Award and participated in major jazz festivals in North America, Asia and Europe, such as the Nice Jazz Festival, Umbria Jazz, Festival Internacional de Kolkata Jazz, among others; in Mexico, it has performed at the Zacatecas Jazz Festival and the Polanco Jazz Festival.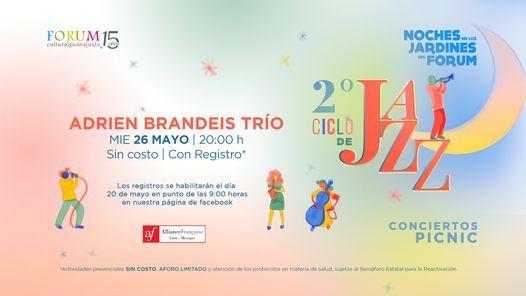 For the concert they will offer at the Forum, they will perform pieces from their most recent album entitled Meetings (Encounters) recorded in 2019 and entirely in France, made up of ten pieces by Adrien that denote his authenticity as a musician with modern and innovative rhythms. .
On Thursday, May 27, it will be the turn of Ingrid Beaujean Jazz Quartet. Ingrid is one of the best-known singers in the Mexican jazz scene, which is characterized by her interest in rescuing the musical traditions of her country, making new music and spreading it worldwide. Ingrid currently heads this group, which is also made up of Oscar González on double bass, Gustavo Grajales on drums, and David Sosa on guitar. Ingrid also works in the educational area, teaching courses and masterclasses at different universities and festivals. She is the coordinator of the Jazz Academy of the INBA Higher School of Music and is part of the teaching staff of theSchool of Rock Music to the Word of the Ministry of Culture of the CDMX.
On Friday May 28, the public will enjoy Les Femmes de Serge, this quintet was born as a tribute to the Chanson Française, a musical genre that emerged in France during the '40s. Her songs with French lyrics take you on a journey through time to the rhythm of incredible female voices accompanied by drums, guitars, double bass and piano. They were formed in 2011 and have gone through several changes to their lineup and have several video productions and a record production called C'est la vie. Initially recognized for giving life to the French song that was lived in the period from the 40s to the 70s (Edith Piaf, Boris Vien, Serge Gainsbourg, etc.). Les Femmes de Serge is made up of José Gilberto Ríos on double bass, Darko Palacios on drums, Karina Marcela Garnica and Tzinzuni Sabina Varela on vocals, as well as María de los Ángeles Soria playing the piano.
To close this 2nd. Jazz Cycle, on Saturday May 29, Natalia Marrokin will perform, a young Mexican singer-songwriter with neo-African influence, soul, blues and Rhythm and blues who makes a bilingual mix of songs, love, nature and her own stories. She studied music at the Higher School of Music and received a scholarship from the Berklee School of Music, in Boston, United States. Natalia has had the opportunity to collaborate with various and renowned artists in presentations at venues such as: Abbey Road (London, UK), José Martí Theater (Havana, Cuba), New York and Houston.
Natalia Marroquín will be accompanied for this appointment by Erik Huesca Hernández on guitar, Patricio Emilio Peña Méndez on piano, Ricardo Vargas Tamez on drums and José Antonio Lozoya Téllez on bass.
The concerts – which the public will be able to enjoy in a picnic format – will take place in the Sculpture Garden (South Garden) at 8:00 p.m., access will be free with limited capacity and online registration by filling out a format by activity, these registration formats are already published both in the events section of the Facebook page and in the agenda of the page https://forumcultural.guanajuato.gob.mx/eventos/
Source: boletines.guanajuato.gob.mx