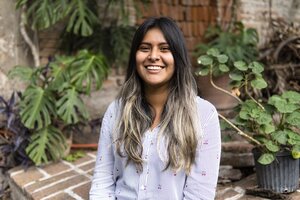 Dafne is 25 years old and has lived in San Miguel de Allende her whole life. She grew up in Colonia San Antonio, a neighborhood right in the heart of urban San Miguel. For Dafne, drinking tap water was common practice until the age of ten, when her family started buying bottled water for their drinking water needs. But by then, it was already too late. After living with brown and yellow spots on her teeth for most of her life, Dafne approached a dentist who confirmed her suspicions: she has dental fluorosis – the irreversible staining of teeth from excessive exposure to fluoride in her drinking water for all those years. Unfortunately, fluorosis not only affects the teeth but also the bones, as Dafne explains:
"There are days that I wake up with intense bone pains, in my fingers, in my hips, and in my legs.
"The following video is less than 3 minutes in length. Please take a look to learn about Dafne's story first-hand:
While a major part of our focus at Caminos de Agua has been on helping rural communities gain access to clean water, the water crisis affecting our region is increasingly not just limited to these outlying areas. That is why we have decided to launch our new Urban Education Initiative this fall to help residents, especially those in highly-impacted neighborhoods, better understand and navigate this growing threat. We will be ramping up our water quality monitoring in the urban area, offering neighborhood workshops, helping residents organize, and building model urban solutions to our complex water quality and scarcity challenges.
This ambitious and far-reaching program will have an impact on all of us who call San Miguel home and all those who have come to love San Miguel as the unique and wonderful place it is. Please help us build, launch, and conduct this important effort by making a donation today.
If you have any questions please feel free to contact us at: [email protected]