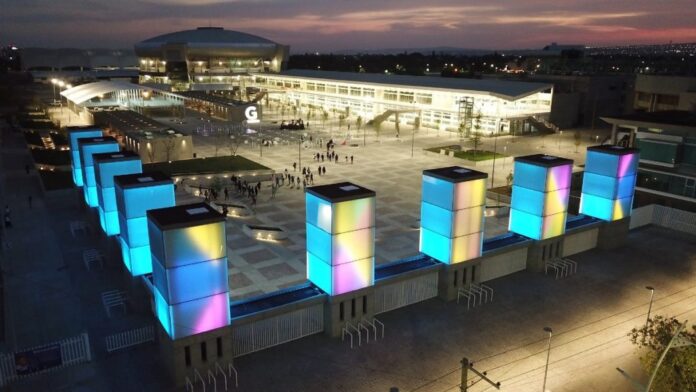 The León 2021 Summer Fair concludes on July 25.
This is the first edition of the León fair to be held during the Covid-19 pandemic, so attendees have had to comply with a health security protocol that includes the mandatory use of face masks and maintain a healthy distance of 1.5 meters.
In addition, attendees are asked to constantly wash their hands or use antibacterial gel; avoid consuming food and beverages while traveling, and respect capacity control.
The schedule of the León Fair is from Monday to Sunday from: 10 am to 11:50 pm.
Free activities
Those attending the León 2021 Summer Fair will be able to enjoy several free activities, from Monday to Sunday.
Wrestling functions in the Dome from 5:30 p.m. to 7:00 p.m.
Circus acts in the Esplanades at 3:00 p.m., 5:00 p.m. and 7:00 p.m.
Live music in the Traditions Zone at 3:30 p.m. and 7:00 p.m.
Cultural talent at the Macroterraza Tecate at 1:00 p.m. and 4:00 p.m.
León Summer Fair 2021 Tickets
The cost of the general ticket to the fair is 16 pesos, which allows access to commercial, gastronomic, and cultural activities. It is valid from Thursday to Sunday from 10:00 am to 12:00 am.
While the game bracelet has a cost 73 pesos. It gives access to the commercial, gastronomic and cultural activities area, as well as to the mechanical games. In this case, the bracelet is valid from Monday to Wednesday from 10:00 am to 12:00 am.
The hours of the rides are from 11 to 23 hours.
The number of rides decreases to guarantee more space that fosters a healthy distance from visitors.
Capacity control through a system of intelligent cameras and traffic lights to guarantee the correct and safe operation of lines, waiting times and promote healthy distance in the area.
Each attraction will have its defined circuit for boarding lanes, inviting you to maintain a healthy distance.
Before boarding each attraction, the visitor is obliged to use a mask correctly and use antibacterial gel.
At the moment in which the program pause for your safety is implemented, each attraction will be disinfected, prioritizing the contact surfaces as well as the points of attachment of these
It is important to note that there are no lockers, so tickets for the 2021 summer fair can be purchased at Oxxo stores.
Children whose height is less than 90 centimeters enter free.
The Leon 2021 fair will end on July 25.
Location.
Source: unionguanajuato.mx