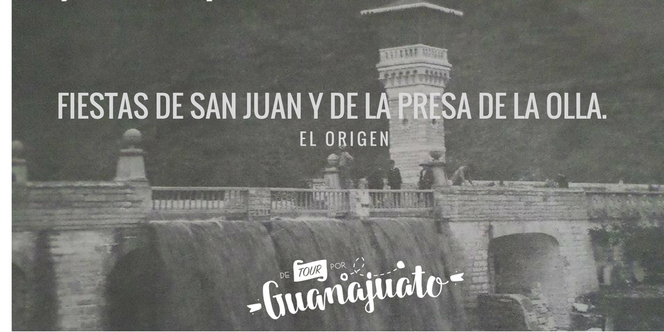 Guanajuato treasures places and traditions that with the passage of time become stronger. Guanajuatenses love to celebrate as a family and pass it on to new generations.
In 1741 the city faced a water shortage, due to this, the councilor Alfonso García Malahebar and the master builder Antonio Gardiano requested the viceroy, Pedro Castro, to build a dam in the rancho "The big pot." de la olla.
It was thus that in the Rancho de la Olla on the outskirts of the Villa the construction of a dam began, to supply water to the population; it was finished eight years later. The gates are raised to empty it and thus be able to unload it, while the main gates were opened to clean the riverbed, people enjoyed this fact, they were amazed at the wonderful show.
In July 1747, the opening of the La Olla Dam was solemnly celebrated for the first time, with Mr. Lorenzo Arellano being Governor of the State of Guanajuato.
Soon the easy access to the Dam allowed people to go every year during the season rains and since then the opening of its floodgates has been a reason for celebration and coexistence among Guanajuato residents.
The name of "Fiestas de San Juan" and its association with the Presa de la Olla, is due to the droughts that have always manifested in Guanajuato, and its inhabitants entrusted themselves to different saints to send the rain. The main patron is San Juan Bautista, celebrated on June 24 and who was thanked for sending the rain, since in the past it used to rain from the middle of May to June. Hence, they became known as the Fiestas de San Juan and La Olla dam
As is customary during the opening of the gates and while the authorities give the signal with a white handkerchief, you can hear the Waltz on the Waves, by Juventino Rosas. On June 24, 2013, the Governor of Guanajuato, Miguel Márquez Márquez, signed a decree declaring the Fiestas de San Juan y Presa de la Olla and San Ignacio de Loyola, as Intangible Cultural Heritage of the State of Guanajuato.