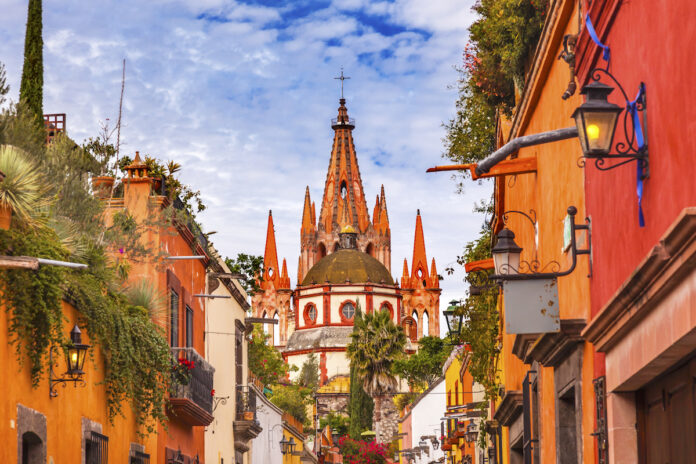 Maybe it's the cobbled streets, the temperate climate, the romantic pink towers, and Spanish colonial architecture, or maybe the first-class galleries and restaurants. Possibly (probably) it has something to do with the crystal-clear sipping tequila.
But while the enchanting town of San Miguel de Allende, nestled in Mexico's Central Highlands, has long captured the attention of sun-seeking expats from North America and beyond, the world at large is finally beginning to take notice.
First, it was San Miguel's UNESCO World Heritage Site designation in 2008. Then, just this year, Travel + Leisure named San Miguel—literally—the 'best city in the world.'
But more discerning even than the history buffs and the luxury travel crowd are jet setters of a different kind; those on the international showjumping circuit. And, in the coming years, you'd better believe that San Miguel de Allende and all of its charms will be the new hot spot whispered about in five-star riders' lounges on both sides of the Atlantic.
There's a very good reason for that.
Enter: Otomí Equestrian Residential. Located in the shadow of the ancient Otomi pyramids, this new residential development is a virtual oasis of leisure, hospitality, culture—and yes—horse sport. In fact, the stunning property, built by famed Mexican architect Humberto Artigas, will offer not only elegant, white-washed villas and vacation homes located just a short distance from one of Mexico's most coveted destination cities, but a front-row seat to six weeks of international showjumping action.
That's right: Otomí Equestrian Residential houses its own, top-notch equestrian facilities and experienced team of showrunners who have been hosting successful events in Mexico for nearly a decade.
The brainchild of Daniel Rihan Salum, Eduardo León Escalante, and Tamer Amr (Reinvest), Otomí Equestrian Residential hopes to leverage its storied location while providing guests and full-time residents with a front-row seat to the action. "Eduardo [León Escalante] and I are both equestrians, and we decided that the development needed some kind of amenity [outside of the traditional] golf courses," says Rihan, noting that the development, when completed, will be comprised of houses, townhouses, and eventually, its own hotel.  
"The community in San Miguel is [made up of] a lot of Mexicans, Americans, Canadians, and Europeans, and they love to come and watch the [equestrian] events we hold here and have really embraced them. Not only that but now, thanks to the horse show we do three times a year, local businesses are benefiting, [especially the] hotels and restaurants.
"It's great for the riders and their families because they can enjoy the sport and the town, the nightlife, and a lot of cultural heritage," adds Rihan.
Among the highlights: a [50-mile] lake and dam ideal for canoeing and watersports, a motorbike track, gym, pool, jacuzzi, and tennis courts, just to name a few. Downtown San Miguel offers still more to discover, with more art galleries than you can shake a stick at and diverse, award-winning restaurants with meat and produce benefitting from the city's fertile, surrounding farmland.
Not bad if you're a full-time resident. But the delights of San Miguel are equally accessible to visiting horse show attendees and their families, who can take advantage of the scenic and relaxed event atmosphere while also making the most of its #vacationvibes locale.
Among Otomí Equestrian Residential rider-coverts? None other than Olympic Individual gold medalist, World Cup Finals winner, and Otomi Warriors team member Rodrigo Pessoa (BRA). "I think that going to Mexico for the two weeks [of the Major League Show Jumping tour] was really what attracted me, because I know the venues are really nice and because it's nice to be part of a good team," Pessoa says, adding his longstanding support for Rihan and his team.