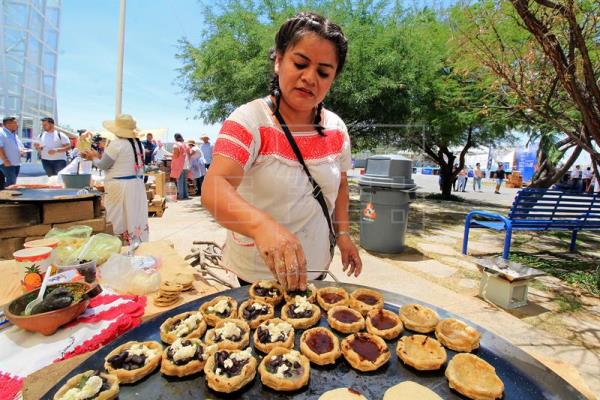 The Guanajuato Bicentennial Theater will once again host this event in which about 30 cooks from Guanajuato and the state of Coahuila will participate.
The ninth Reunion of Traditional Cooks will be held in the Guanajuato Bicentennial Park on October 30 and 31 and will have the participation of around 30 traditional cooks from various municipalities of Guanajuato and Coahuila as a guest State.
Juan Pablo Arce, office manager of Economic Development of Silao, to publicize the foregoing take this opportunity to thank the Ministry of Tourism to encourage and rescue the traditional cuisines of the state.
Carlos Óscar Domínguez Aguilar, general director of the Park invited the population to attend said event where Coahuila, a guest state at the FIC, will have the presence of 5 cooks who will show a bit of their culture.
The meeting will be from 11:00 in the morning to 7 in the afternoon the two days of its duration, where all attendees will be able to enjoy different dishes and workshops, with the cost of the ticket being 60 pesos for adults and 30 pesos for children and older adults.
In the previous edition, attendees were able to enjoy dishes such as: Gorditas or verdolagas taco, quelites, mole with chicken, capon soup toast, chilacayotes, maguey flower tortillas, enchiladas with jerky, walnut mole, chard tamales, Aztec dish, fritters, xoconostle water and parsley with lemon, among others.
Some of the participating cooks could be in this new edition again.  
TYPICAL IN GUANAJUATO
Just to elaborate on the subject, we present below some typical dishes, snacks and sweets Guanajuato are:
Mining enchiladas: Fried tortillas bathed with mole made with guajillo chili peppers, accompanied with fried potatoes and diced carrots, stuffed with cheese and onion, garnished with lettuce and accompanied by a piece of fried chicken.
Guacamayas: Typical in León, they are half-open bolillos in two parts and inside are pieces of hard pork, pico de Gallo, and sauce prepared with chile de arbol, other ingredients have been adapted that could be boiled egg, avocado, cueritos pork and many others, according to the palate of each person.
Gorditas de carnitas: They are corn tortillas a little thick and small, they are fried in oil or butter and filled with pork carnitas, accompanied by red or green sauce.
Bear Soup: Also a tradition in León, it is a tasty snack made of jicama, cucumber, pineapple, seasoned with vinegar, onion, chili (the one that is itchy or the one that does not itch), lemon and cheese.
Stuffed maguey stalk: They are two maguey stalks that are joined to place inside a stew of nopales, tomato, onion, arbol chili peppers, serrano chilies and coriander. It is cooked on the grill and over low heat. It can also be filled with cheese, meat or some golden ingredient.
Capone de nopales with xoconostle: The main thing is the capone sauce, which is prepared with nopales, xoconostles, cornfield tomato, onion, chili and coriander and is added to the freshly made bean broth.
The charamuscas: Its name comes from the gold sheets in the shape of a tumbaga that the religious used as a ring and are made from wheat, anise, sour orange, icing sugar and cinnamon. Guanajuato capital has made them famous internationally since they are sold in the form of mummies and other figures to tourists.
Other typical foods that represent the municipalities of Guanajuato are: the cartas de Celaya , the snows of Dolores Hidalgo, the pacholas from Guanajuato , the pork legs in vinegar, the strawberries from Irapuato , the cold meat style San Miguel de Allende, the stone tamales. with black beans and pambazos from San Francisco del Rincón. 
San Miguel Post