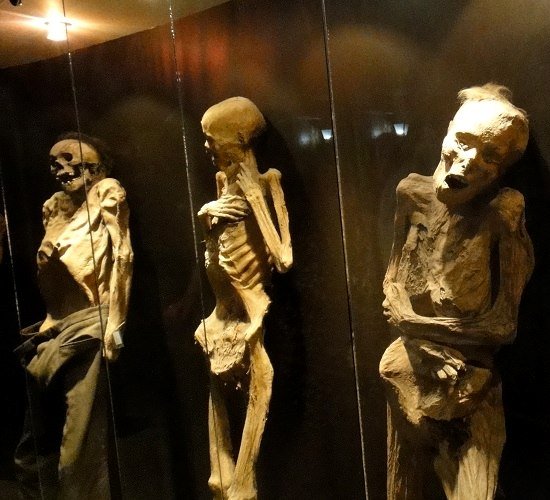 The Museum de El Carmen Mummies is a former monastery school and chapel. Its construction lasted between 1615 and 1628. The building used to be a monastery school, but today, it stands as a full Colonial religious piece of art.
In the crypt of the former monastery, there are 12 mummified bodies. These bodies are thought to belong to some former parishioners. Without a doubt, the bodies had been abandoned in the crypt.
The Mummies
So after the building was abandoned for good, due to poor conditions, the bodies started dehydrating, so they were naturally mummified. The discovery of these bodies was made by members of the Liberation Army of the South.
They succeeded in doing this discovery by looking for monastic treasures, so it was a pure coincidence that they found the bodies.
During the following years, the bodies were again discovered by people who were exploring the building. And finally, in 1929, the mummies were placed in a safer place, which means some velvet-lined wood and glass caskets. These original boxes are still in use.
Some Tips
Before you go to this place, we would recommend you choose the Metro variant in Mexico City. Take subway 3 to Miguel Angel de Quevedo. After visiting the mummies, take your time to have a walk in the beautiful monastery gardens.
Source: Youtube