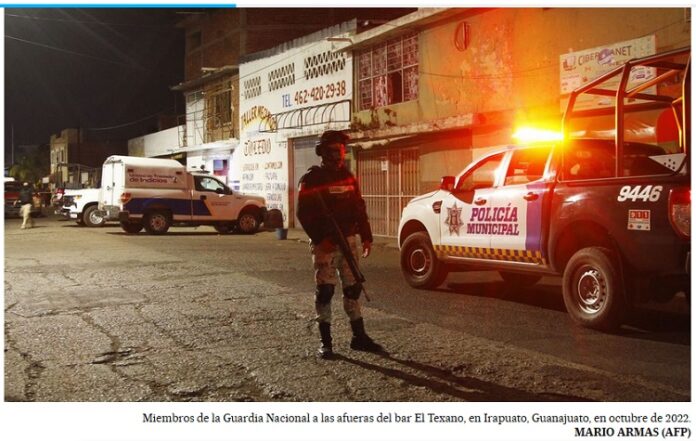 The state of Guanajuato registers high levels of violence due to disputes between the Jalisco Nueva Generación Cartel against remnants of the Santa Rosa de Lima Cartel.
The escalation of violence in Guanajuato showed its scope in a bar in Irapuato, where gunmen broke in and perpetrated a true massacre, killing at least 12 people who were on the premises.
Preliminary reports indicated that the deceased are six men and six women, who were murdered inside this bar located in the neighborhood known as Doce de Diciembre, around 8:00 p.m. on Saturday, October 15.
According to local media, the attacks took place at the Texana Bar, whose business is also known as El Pantano, and which is located on Jamaica Street, almost on the corner of Mariano J. García Avenue, Irapuato, Gto.
The report says that a group of heavily armed men with their faces covered burst into the place and opened fire. Customers and employees tried to take shelter, but some did not survive.
After the loud detonations, witnesses heard the criminals flee the scene. While other people left the place horrified asking for help.
Paramedics from the Red Cross and Civil Protection arrived and stabilized the seriously injured civilians before transferring them to the hospital. Of the rest, they only corroborated that they did not have vital signs.