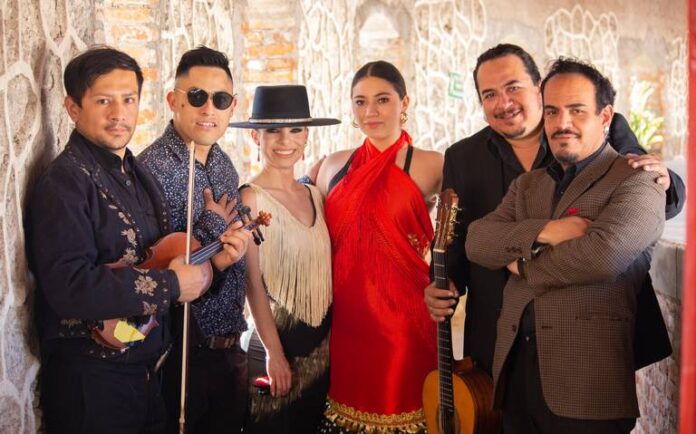 The Plaza de Toros de San Miguel de Allende brought together select guests during the celebration of the Santisima Mesa (Holy Table)
More than 200 guests gathered at the historic San Miguel de Allende Bullring in the center of the Ciudad Patrimonio, where the second edition of the Santísima Mesa took place, an event that brings together the traditions of Spanish culture with the Mexican.
The iconic square was dressed by cheerful flamenco chords, at the same time that the guests arrived at the event, all dressed in elegant outfits very "San Miguel look", with boots, hats, skirts and dresses with colorful ripples characteristic of flamenco.
Among the attendees were Lucy Lara, Linda Cherem, Marion Lanz Duret, Paulina Diaz Ordaz, Paulina Madrazo, Ileana Hernández, Rose Ruiz, and Alberto Cinta who were received by the hostess of the event Pilar Palomar and Carlo Gallardo.
The representatives of the Código 1530 firm welcomed those present with the house's flagship cocktails, which refreshed the hot day.
This experience brought together opinion leaders, artists, journalists, fashion lovers and socialites, who listened to the speech of Ileana Hernández, director of the Tequila firm: "Código 1530 was born out of a passion for the history of Mexico and processes of this national emblematic drink, which begins to make history in the United States, where the market for this delicious elixir is enormous, arriving in our country in 2023, creating a special pairing with the dishes served during the Santisima Mesa: Greek salad, mushroom risotto and salmon in meuniere sauce with pumpkin salad.
Regarding the issue of why this Tequila is known as "Private Tequila" Hernández explained: "There are still few lucky ones who have had the privilege of trying this Tequila that was born for personal consumption, with a traditional recipe within a family distillery in Amatitlán Jalisco, created by five generations of the best jimadores in the Valles de Jalisco region".
And she added: "We make each bottle and each batch using only agaves from local farms who have cultivated this plant throughout their lives and we will continue to produce the best quality Tequila without optimizing costs to sacrifice quality."
The party lasted until late at night, where there was an atmosphere full of emotions and fun among friends.
Source: El Sol de Mexico