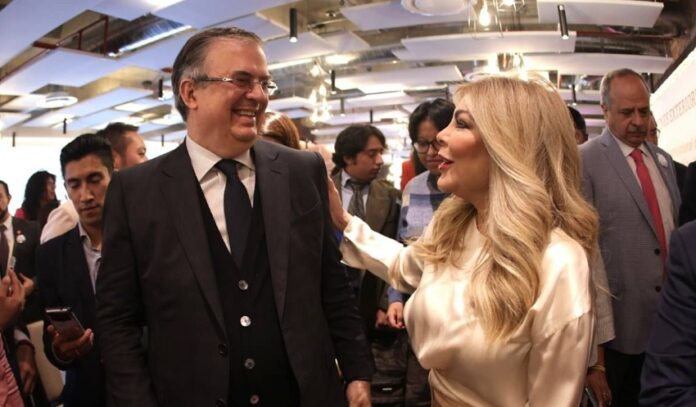 Mexico has officially begun allowing citizens to identify as nonbinary on their passports.
On Wednesday, May 17th, in honor of the International Day Against Homophobia, Biphobia, and Transphobia, the Foreign Ministry held an event to celebrate its new inclusive policy and issue its first-ever nonbinary passport to magistrate and activist Ociel Baena.
Nonbinary Mexicans now have the option to select "X" as their gender marker, rather than male or female. Foreign Minister Marcelo Ebrard called the move "a great leap for the freedom and dignity of people."
Primer pasaporte no-binario de México entregado hoy en Naucalpan, un gran salto por la libertad y dignidad de las personas pic.twitter.com/NCZAPS7nt4

— Marcelo Ebrard C. (@m_ebrard) May 17, 2023
A statement obtained by Reuters from the Foreign Ministry explained that "people applying will be able to choose the marker 'X' for the box designating sex on their passport, and in that way they omit the need to specify gender."
But not everyone is happy with the way the change has been rolled out.
Nonbinary Mexican activist and deputy director of global programming for It Gets Better Alex Orue told Reuters that the government is conflating gender and sex.
"It's counterproductive because it confuses the concepts and reinforces a stigma against our community," Orue said, adding that "NB" would be a better option than an "X."
"It could seem like a minor detail, but it's stigmatizing for nonbinary people and it becomes a matter of inspection of genitalia."
Mexico continues to advance LGBTQ+ rights. In February 2022, the state of Guanajuato issued the country's first birth certificate with nonbinary gender identification.
Also last year, the entire country achieved marriage equality after all 32 states officially approved it at the state level.
According to Human Rights Watch, over a dozen countries – including the United States – allow the designation of nonbinary identities on national documents.
In 2021, the U.S. issued its first passport with an "X" gender marker. That year, Secretary of State Anthony Blinken announced that the Department would also make it easier for transgender individuals to correct the gender marker on their passports by lifting the requirement for medical certification of one's gender identity. 
Source: El Universal