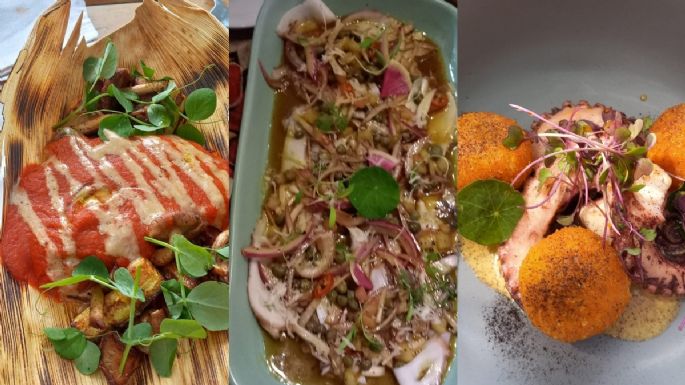 Guanajuato is a state that is famous for its cultural richness, the annual venue of the traditional Cervantino International Festival and the place where the Juárez Theater is located, the Bicentennial museum, the house of José Alfredo Jiménez, the museum of the mummies and a long etcetera, but what little is talked about is always its gastronomy.
The gastronomy of Guanajuato is a unique case, because although it does not have many traditional dishes, it is beginning to appear on the map of contemporary Mexican gastronomy and currently has several restaurants that are being an interesting proposals, while there are some traditional ones, which during some decades have delighted some palates.
Beyond the enchiladas mineras and the guacamaya, which is a bolillo stuffed with avocado, there are some options that you cannot miss if you go to Guanajuato, so pay attention, because we are sure that they will leave you satisfied and wanting a little more.
Panteón taurino
Although bullfights have been prohibited for years, some fans still stay in Guanajuato, which is why some of them built the Panteon Taurino (Pantheon of bullfighting), a museum and restaurant, with reasons for this old trade. The place is a classic in León, Guanajuato and is famous for its barbecues, choriquesos and roast meat. At times some attendees stop to dance on the bar. They are located in C. Calz. de los Heroes 408, Andrade, 37370 León, Gto.
Mestizo
The mestizo restaurant, run by chef Javier Cruz Hernández Vallejo, proposes a mixture of mestizo flavors, with a particular touch of different chiles and fruits from the region, such as octopus carpaccio with xoconostle and dried chili powder or sea bass ceviche with habanero and even a black aguachile from New York. It is located at Positos 69, Zona Centro, 36000 Guanajuato, Gto. The average consumption ticket (Dish and 2 drinks) ranges from 350 to 500 pesos.
Valadez House
This magnificent place in charge of the chef Karen Valadez, is in a key area: In front of the Juárez theater and stands out above all for its European dishes and extraordinary bakery, which according to the chef "was what kept us going during the confinement due to the pandemic" And rightly so! Because the bread is of the highest quality! We recommend the corn bread, above all. The average consumption ticket is $500 pesos.
Cuna de Tierra Vineyards Restaurant
This place is perhaps the least accessible of all, because it is a little hidden on the road, but it is worth looking for it, because the food that you can find there is glorious and as soon as you take a bite of what you order there you will feel paradise in your palate because the quality is undeniable and it has jewels, such as the octopus gordita, the beetroot tzatziki or the salmon tartare by chef Ricardo Luna. It is located on Carretera Dolores Hidalgo – San Luis de la Paz Km.11, El Rosillo and is open from 11 am to 5:00 pm.
Pizzeria El Olivo
If you are one of those who think of pizza when you visit a magical and picturesque town, this place is the option, because their pizzas are like traditional Italian ones, although there are some that have a Mexican touch. In addition, the place is ideal for dining and telling the anecdotes of the day while you walked through the town of Dolores Hidalgo.
Source: Gastrolab