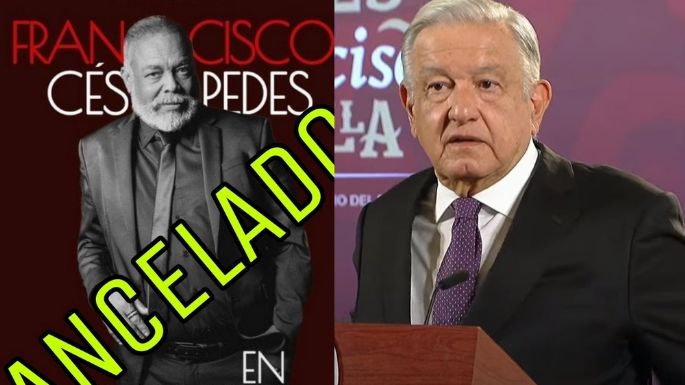 Mexico City.- President Andrés Manuel López Obrador rejected that the Cuban singer Francisco Céspedes be "harassed" and "discriminated against" in the country, after the PRI mayor Mauricio Trejo Pureco of San Miguel Allende, Guanajuato, did not allow him to appear in the municipality.
In the morning conference, the president expressed that the singer should enjoy all his rights in Mexico.
"Now they insult the President and no one is persecuted, even foreigners. The singer Céspedes, who, by the way, should enjoy all his rights in Mexico and should not be harassed or discriminated against," he declared.
"This has nothing to do with the behavior of a democratic government, we must guarantee full freedom and it does not affect us if (Héctor) Aguilar Camín tells me…he cannot repeat it, it does not affect us, because each one has their history and an insult from those people is even a timbre of pride. If they flattered me, it could be cause for concern," López Obrador declared.
Therefore, the president of Mexico asked that there be no reprisals against Céspedes.
"We are free, there should be no retaliation of any kind, there should be no censorship in the case of the singer because in a municipality in Guanajuato they suspended his contract and argued that he had insulted me and that is why they suspended his presentation. I am not agree with that," he said.
The PRI mayor of San Miguel de Allende, Mauricio Trejo, canceled the concert in which Francisco Céspedes would perform this Friday, after the singer wished President López Obrador death.
Through a video, Trejo explained that he saw a video that was shown to him on a trip he made to Mexico City, where the Cuban singer expressed himself badly about Andrés Manuel López Obrador.
"It is the singer Francisco Céspedes who publicly wants our President to die. In San Miguel de Allende there is freedom of expression and a lot of tolerance, but freedom of expression ends when someone wishes the death of our president," said the mayor.
Source: AM