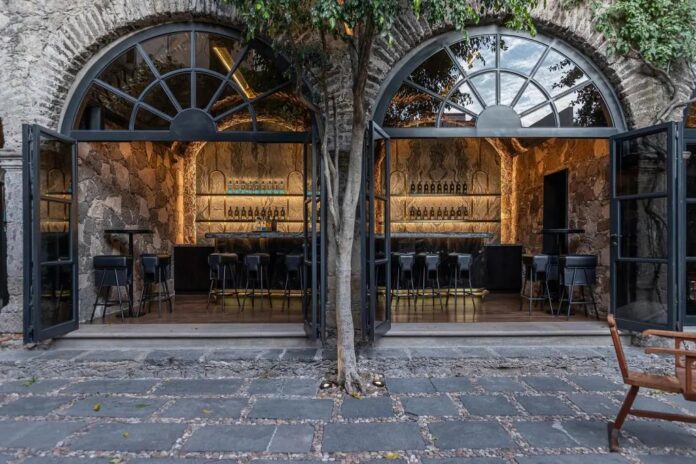 San Miguel de Allende is that city that you could visit again and again without thinking too much about it, because among its intricate streets there are endless spots to visit, but among all of them, a blue façade that could only be Casa Dragones stands out.
Full of history, exclusive and with a flavor that stands out, this tequila is considered by us, and surely by much more, as a unique symbol of the city and that is where its history began and where it has forged an indisputable legacy.
There will be those who have their favorite time to visit the city, we say that any season is the right one to take a getaway, but if you are looking for summer activities, Casa Dragones has prepared a series of experiences that are, let's say, the not-so-necessary push, and we say it because San Miguel is always a yes, to travel to this luxury destination.
Get to know La Casa Dragones and try its tequila
Tour the splendid home of this delicious tequila, an old 17th century stable that belonged to the Dragones, hence the name, and after a renovation it now offers spaces full of equine-inspired décor, as well as details in stone and other natural materials .
The best part is joining the guided tasting, going through the Casa Dragones labels – Joven, Blanco, Añejo and Reposado – while an expert guide you and you go on a sensory journey discovering the notes of each tequila.
Put dessert aside after dinner and better be part of this experience at The Obsidian Bar, where you can try four signature cocktails inspired by four delicious desserts: Sacred Heart (strawberries with cream), La Carlota (lemon pie), Café Merengue (Irish coffee) and Dulce de Mango (mango sticky rice)
The best part is being able to sit in front of the bar and watch the magic happen, recognizing the ingredients and then discovering the flavors of your favorite desserts, but to drink.
San Miguel de Allende has one of the most impressive sunsets in Mexico and even more so when you have a magnificent direct view of the Parish of San Miguel Arcángel, if you add to this having a glass of tequila in hand on the rooftop of La Casa Dragones la experience soars to the sky.
They all have a unique flavor profile, but there are two labels that have a lot in common, Reposado Mizunara and Añejo Barrel Blend, and it's nothing but wood.
The Añejo is matured in new French oak and American oak barrels, as well as new and made to measure, while the Reposado Mizunara is matured in new Mizunara oak barrels. This process gives both tequilas distinctive notes that you can discover in this experience.
But there is also a lot to do outside of La Casa Dragones, delving into the best restaurants and bars in San Miguel de Allende to continue delighting yourself with this tequila.
Change the spot and now delve into the decoration of Dôce18 Concept House, which also houses 'the Smallest Tequila Bar in the World', a place with a decoration similar to The Obsidian Bar and a private environment to continue trying tequila or in some occasions a couple of drinks with the arrival of a bartender.
An obligatory stop in San Miguel de Allende is Bekeb Bar, but for this experience you will not only try drinks, but you will also learn to prepare them and what better way than by the founder and renowned bartender Fabiola Padilla.
Afterwards there will be time for you to taste your creations and enjoy the view and the relaxed atmosphere of the bar.
It's time to pair tequila with dishes and the best place to do it is Bovine, where you'll be part of a private dinner with dishes designed to go perfectly with the taste of tequila.
Bovine's decoration and style means that every wall and corner have something to say, literally.
To complement the whole experience, Hortus, in front of the iconic San Miguel de Allende square, is a cozy space, with warm light and wooden walls, and with a lot of Italian influence, with a menu full of traditional Mediterranean dishes that are wonderful for the palate.
A gem to visit between activities with Casa Dragones.
If, like us, you want to live one of these experiences or even have a private or personalized event (tequila tasting and visit to La Casa Dragones, pairing dinner or reception with tasting) you can check the Casa Dragones page to book, just keep in mind which are for a limited time.
   Source: Robb Report