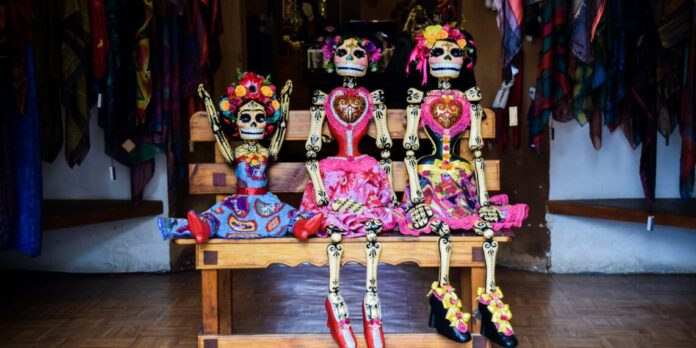 To celebrate the traditions, the San Miguel government headed by President Mauricio Trejo, has already prepared the cultural program for the Day of the Dead in San Miguel de Allende, which will include a stellar performance by Lila Downs.
The Directorate of Culture and Traditions, in coordination with Municipal Tourism, prepared a series of activities that will stimulate the senses of San Miguel residents, tourists and visitors, thereby honoring the memory of the deceased from one of the best small cities in the world.
This Mexican holiday, which in San Miguel takes special traditional emphasis, begins this Monday, October 30 and will extend until Sunday, November 5, with a complete lineup of activities for the whole family.
Highlights include the presentation of the international Mexican artist Lila Downs, who will have an opening by the cultural group "In Xochitl – In Cuicatl" with the poem "Of light and shadows on the Day of the Dead…"; Both events, which will mark the closing of these celebrations, will be free in the Main Garden.
"It is one of the most important and relevant dates worldwide, we know that Mexico itself is well known for the Day of the Dead and San Miguel de Allende has been enhanced in these festivities due to the culture that exists in the destination: traditions," mentioned Tania Castillo, director of Economic Development and Tourism.
Parade and altars in San Miguel de Allende
Like every year, on November 2, the "Parade of the Dead and Catrinas" will be held, at 6:00 p.m., a route that goes from El Cardo to the Main Garden and where San Miguel families, tourists and visitors will join to dazzle the streets of San Miguel with their spectacular outfits alluding to this Mexican tradition that has positioned San Miguel in Mexico and the world.
The Day of the Dead program in San Miguel de Allende also highlights the "Traditional Placing of Altars" in the main streets of the historic center and several popular neighborhoods and colonies, as well as some communities; In addition, children's films will also be shown and thematic conferences will be given, as well as artistic expressions of contemporary dance, traditional rondallas, theater and folkloric ballet.
Source: Lider