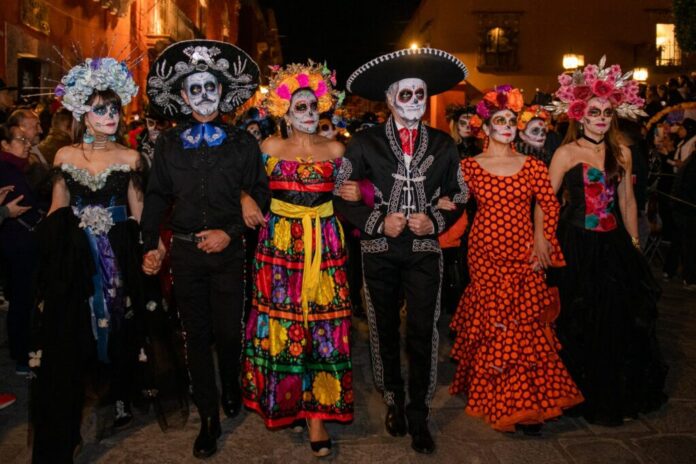 This 2023, the city of San Miguel de Allende celebrated a spectacular Day of the Dead, with which it was painted in Mexican colors, to receive loved ones with the placement of traditional altars and the unique Catrinas Parade, which dazzled San Miguel residents, tourists and visitors.
The activities on this important day for Mexican culture began with the placement of offerings full of marigold flowers and items alluding to the date, in the first square of the Main Garden.
Over the course of the day, the pantheons received more than 45 thousand attendees to visit their loved ones, in addition to continuing with the day of dignification of the pantheons.
To close, the traditional Catrinas Parade was held, which brought together eight thousand participants, including Mexicans and foreigners, who on their journey through the main streets of the city amazed the more than 60 thousand attendees with their outfits, who continue to enjoy the Mexican culture with the essence of San Miguel.
There will be activities on the weekend
The municipal government of San Miguel de Allende reported that there are still activities scheduled for the entire weekend, among which the Traditional Burial, which consists of a representation of ancient funerals, stands out for this Friday and for the first time in the municipality.
Furthermore, to culminate this magnificent poster in the Main Garden, the show "Of light and shadows on the Day of the Dead" will be presented, by the group "In Xochitl – In Cuicatl", to give way to the concert by the Oaxacan singer of international stature Lila Downs, who will give a spectacular close to the celebration.
San Miguel de Allende works to remain one of the favorite destinations to visit on holidays, remembering that it is the ambassador of Guanajuato and Mexico to the world.
Source: Lider Empresarial