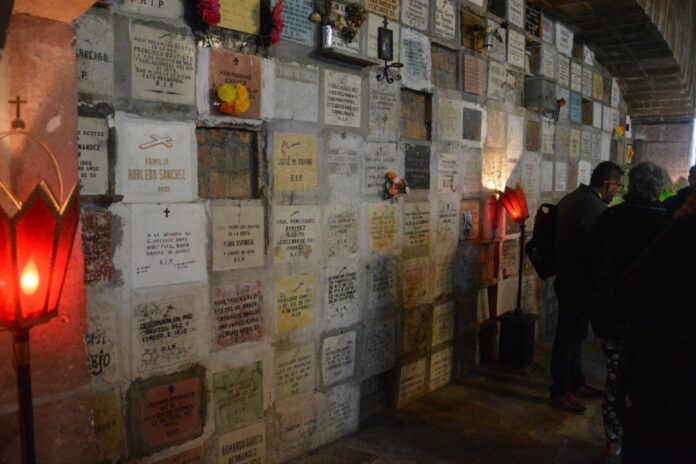 Catacombs of the parish of San Miguel Arcángel in San Miguel de Allende, Guanajuato.
Guanajuato, Mexico.- Beneath the altar of the parish of San Miguel Arcángel in San Miguel Allende lie the catacombs with the remains of clerics, royalty and even a former president of Mexico. The oldest tomb dates back to 1815 and they are only open to the public two days a year. The stories of the oldest tombs in Guanajuato can be found throughout the state.
In San Miguel de Allende, access to the tombs that guard one of the most famous parishes in Mexico is only open on All Saints' Day and the Day of the Dead: November 1st and 2nd.
The oldest niche is where the remains of Vicente del Serno y Casas rest, Clérigo Presbítero, domiciliary of the bishopric, who died at the age of 36, in June 1815.
These catacombs in Guanajuato are not open all year round.
In the most remote part of the crypts is that of the politician, military man, doctor and 3-time president of Mexico Anastasio Bustamante; Trinidad Anastasio de Sales Ruiz Bustamante y Oseguera, who was accused of the murder of Vicente Guerrero and was included in the Law of the Case which ordered the exile of all opponents of the reformist regime of Valentín Gómez Farías.
He died in San Miguel de Allende, on February 6, 1853. In accordance with his will, his heart was sent to the Metropolitan Cathedral of Mexico City and deposited next to the remains of Agustín de Iturbide. His remains rest in the catacombs of the Parish of San Miguel Arcángel in San Miguel de Allende.
They house some of the most important and oldest tombs in all of Guanajuato.
On his tomb you can read the message "To General Anastasio Bustamante, friend and companion of the liberator of Mexico, President of the Republic, proclaimed by the National Congress, Benemérito of the Homeland of enlightened fame, for the actions of Azcapotzalco and Juchi . For his personal courage and for his moderation and integrity in the Army of the Public Administration, he died February 6, 1853."
The catacombs are in a space that does not exceed 20 by 20 meters, with remains from the years 1817 to 1821, the oldest.
There is no cost to visit them, but they recommend looking for certified tour guides.
Another notable tomb is that of Pedro Antonio Valdez, Clérigo Presbítero, who died at the age of 43, in 1817.
The opening of this space takes place from 10:00 in the morning to 7:00 p.m., during both days. There is no cost to visit it and it is simply asked not to spend too much time inside and, if possible, look for accredited guides so that visitors can hear accurate information.
Source: Periodico Correo