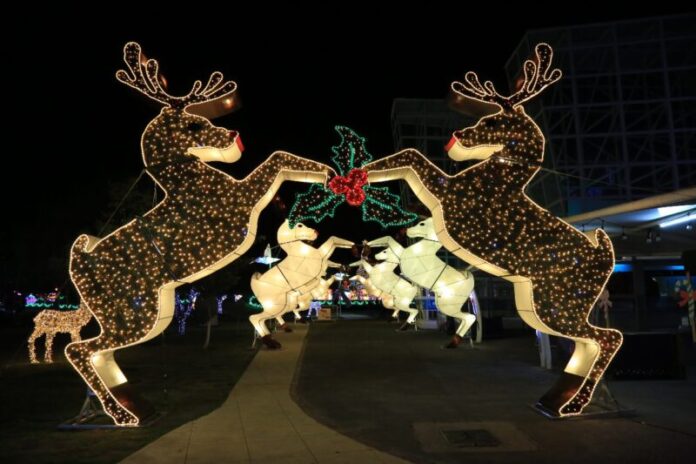 Starting this Friday the 17th and until the first week of January 2024, the Guanajuato Bicentenario Park opens its doors to experience Christmas and New Year 2024 with new experiences for the family.
More than 200 giant figures will be present in this edition that promises unique experiences for all ages.
After its first edition, in 2021, this Christmas attraction returns for the second time with large-scale figures such as teddy bears, floats, candy canes, gingerbread house, train, reindeer, spheres, castle over the fountain, arches, garlands, among other.
Attendees will also enjoy a Christmas Market, where they will find a wide gastronomic offer to share in the company of loved ones.
In addition, there will be a wide variety of products made by well-known Guanajuato brands.
PARTY DAYS
From 3 to 10 p.m., Monday to Sunday, families will be able to take night tours and photograph each of the visual spots.
They will be able to enjoy new live shows such as "Welcome with Nikolaus" on the impressive PGB tree, as well as the "Wishing Fountain Show with the Water Fairies".
At the kiosk, the fun will be "A magical Christmas with the fairies", "Musical comic pastoral", and a circus, singing and dancing musical show.
In addition, there is the new "March of Nikolaus and the Three Wise Men Musical Parade", and the unmissable "Christmas Spirit Concert", a musical show of Christmas carols with spectacular pyrotechnics.
THE COSTS
With a cost of only 140 pesos per person, visitors will have access to "Guanajuato Brilla"
Also to the exhibitions that are currently in the Park, such as "Living Planet", "Identities", "The five paths of the underworld", and the Super Karts Circuit.
And, for 40 extra pesos, you can go on the zip line.
Source: El Pipila