The leader of the Santa Rosa de Lima cartel, José Antonio Yépez Ortiz, alias 'El Marro', has warned the Mexican government this Sunday that there will be a response after the arrest of his mother, a sister and a cousin of El Marro.
After the mayhem in Guanajuato which led the US government to issue an emergency travel alert
Guanajuato burns; They set cars on fire and block roads
Vehicles burned at different points in the urban area of ​​Celaya, as well as blockades on the roads to Comonfort, Juventino Rosas, Salvatierra and Apaseo el Alto were registered yesterday afternoon in the Laja Bajío region, after Federal Forces, in coordination with State and municipal security corporations conducted searches in points likely related to organized crime, announced by the government secretary, Luis Ernesto Ayala, through his Twitter account.
Similar events were reported in León, Salamanca, Juventino Rosas and Dolores Hidalgo. Unofficially there is talk of 40 detainees in the San Isidro community of Elguera.
Some points where vehicle fires were recorded were Presa Álvaro Obregón avenue, in the Alfredo V. Bonfil neighborhood; the Celaya-Juventino Rosas highway, Benito Juárez avenue in the Central Zone and in the Segundo Anillo Poniente. In addition, it was learned that a furniture store located on Adolfo López Materos Oriente Boulevard was on fire, although it has not been specified if it has to do with the riots.
The leader of the Santa Rosa de Lima Cartel released two videos on social networks in which he threatened violent acts; he said he was ready to join the Sinaloa Cartel
After the arrest of 26 members of the Santa Rosa de Lima Cartel, including the mother of the leader of this criminal organization; José Antonio Yépez, alias "El Marro" appeared in a video.
In the image his face is clearly seen and he is seen dismayed and with a broken voice by the capture of his people and some relatives.
And although nothing can be done to the fucking band, thanks, first of all, thanks first of all. I will always be with you until I am burdened to see …, I will always support you, I will always cut flag with these sons of your motherfucker. All the time we are going to drive her to see …, from here until the sight takes us …, even if I stay alone to see …, even if I remain alone as a fucking dog, I'm going to hold onto fucking ", said 'El MARRO'.
Y aunque no se pueda hacer nada a la chingada banda gracias ante todo, gracias ante todo. Yo siempre voy a estar con ustedes, hasta que me cargue la ver…, siempre los voy a apoyar, siempre me voy a rajar bandera con estos hijos de su puta madre. Todo el tiempo le vamos a arrear a la ver…, de aquí hasta que nos lleve la ver…, aunque me quede solo a la ver…, aunque me quede solo como un pinche perro me les voy a aferrar putos", señaló 'El Marro'.
Hours later he recorded another video where he appears more challenging for the capture of his mother.
Here they came to have a good time seeing … again children of their . … mad … with all the people, here culeros, this time even my mother … … nothing happens children of their …. mother, it is good to see … everything ..… ", commented the leader of the Santa Rosa de Lima Cartel.
Aquí vinieron a pasarse bien de ver… otra vez hijos de su put… mad… con toda la gente, aquí culeros, esta vez hasta a mi madre put…, no pasa nada hijos de su put… madre, les vale bien ver… todo put…", comentó el líder del Cártel de Santa Rosa de Lima.
In response, he launched a threat to the government that can be interpreted as the beginning of a wave of violence in the area.
And don't think anything else because they took my fucking mother, now put her as a financial operator, head of the Cartel. Sons of her put… mad…, fucking dogs, as they know how to fuck, but fuck their mad… put…. For her and for all my people I am going to lay eggs to the fucking matter, do not think that I am frightened by children of your put … mother, this does not even happen, "he threatened.
He even said he was willing to work for the Sinaloa Cartel and for the lords of the border to prevent the Jalisco Nueva Generación Cartel from entering Guanajuato.
And even if it is hard for me to work for some of the lords of the border or some of the lords of Sinaloa put … but here sons of your put … mother, first I have to serve any of the lords, but those sons of their put … Mother, I am not going to let culeros in, "he sentenced.
He also said he is willing to continue with his strategy of violence, which has claimed hundreds of victims in the Laja-Bajío region.
They humiliated and did what they wanted with the fucking family, but fuck … their mother put … and I'm going to be a stone in their put shoes …, I'm going to cut their mother, they are going to see eyelets, pinches sold eyelets, sell countries sons of his put… mother ".
The governor of Guanajuato assured that the path to recover peace in the state has not been an easy one; this after the operation that gave a strong blow to the Santa Rosa de Lima Cartel, where El Marro's mother was detained
Federal and state authorities in Guanajuato are on high alert for any attempted violence.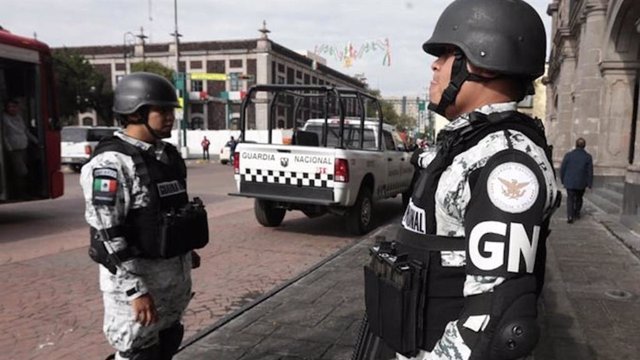 Sedena confirms arrest of El Marro's mother
The National Defense Secretariat (Sedena) confirmed the apprehension of three women, among whom are the mother, sister, and cousin of José Antonio Yépez Ortiz, alias "El Marro", leader of the Santa Rosa de Lima cartel.
The agency identified the detainees as María "N", Juana "N" and Rosalba "N".
The Sedena affirmed that the detainees are presumed financial operators of a criminal group that operates in that entity, and whose apprehension caused in retaliation various attacks on the communication channels of that city, for which the authorities had to act to free them and allow the free transit.
Source: excelsior.com.mx, elsoldemexico.com.mx, eluniversal.com.mx