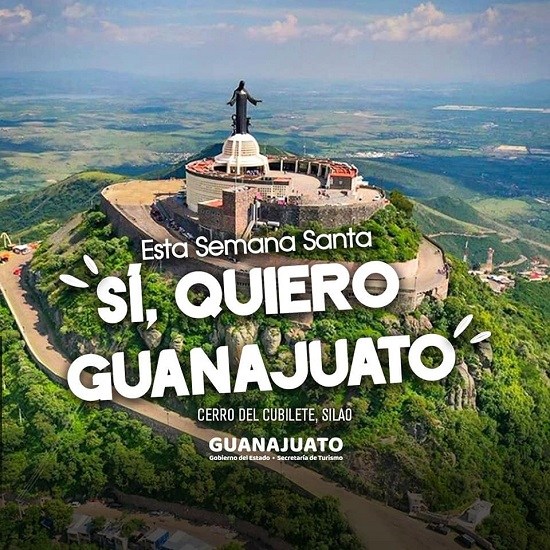 Until April 23, the campaign will be available on radio, press, TV and social networks of the Secretariat of Tourism of Guanajuato.

The epidemiological traffic light restrictions will be a decisive factor on the influx of national tourism in Guanajuato.

Guanajuato. With the aim of continuing the tourist reactivation actions, the Tourism Secretariat of the state of Guanajuato today launched the campaign "Yes, I want Guanajuato" -available until April 23-, directed for local and national travelers.

"Sí, Quiero Guanajuato" promotes the tourism segments of Culture, Romance, Adventure, Gastronomic, Health and Well-being, MICE, and Oenological and Distilled, which offer the 6 Magical Towns, the 2 World Heritage Cities and the main tourist destinations of Guanajuato; Also available on the website www.guanajuato.mx.

And it invites tourists to visit Guanajuato, a destination that has complied with protocols and health security mechanisms in the face of the contingency caused by COVID-19. In addition, the Government of the state of Guanajuato created the best health system in the country, which made it possible to face the pandemic from the beginning with infrastructure, equipment, medicines and trained personnel.

The tourism sector was no exception. Around the effects on the industry, SECTUR -through the Tourism Competitiveness Directorate- established guidelines for an orderly, gradual and responsible reincorporation of the economic sectors and designed the "Sano Guanajuato Distinctive" as a tool to define good practices within of the value chain.

With the Guanajuato Sano Distinctive, the state has achieved not only state but also international recognition by being the first destination without a beach in Mexico to receive the "Safe Travel Seal" by the World Travel and Tourism Council (WTTC, for its acronym in English), by implementing high standards of hygiene and sanitation in this prestigious industry.

Today there are already more than 3,000 tourist organizations that have registered for the Good Practices course, among them, hotels, travel agencies and operators, tourist guides, restaurants, popular art establishments and typical products, tourist transport companies, operating companies of theme parks, tourist assistance, spas, golf courses, spas, rural tourism companies, among others.
According to the State Traffic Light for Reactivation, which is now yellow with an alert, the estimate of occupancy in hotels and restaurants that have complied with the safe destination certification is 60%.
The epidemiological traffic light restrictions will be a decisive factor in the influx of national tourism, since road trips, short distances, and avoiding crowds, could generate greater dynamism during this season.

Juan José Álvarez Brunel, Secretary of Tourism of Guanajuato, invites visitors and the general population not to lower their guard and consider at all times the healthy distance, frequent hand washing, use of face masks, and preferably carry barrier devices (mask and lenses).