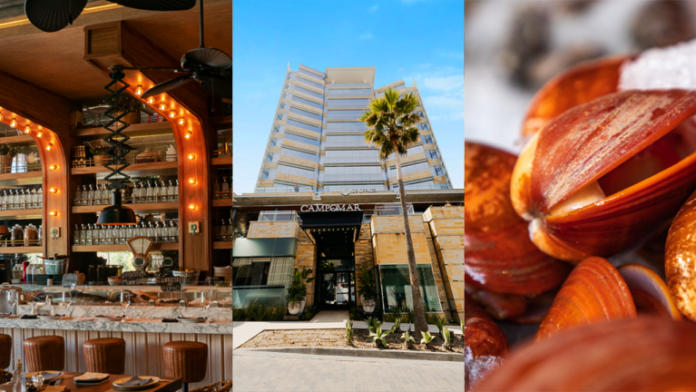 The Mexican restaurant, Campomar, is managing to expand the flavor of Nayarit cuisine to new regions of the country. After conquering the palate of Monterrey, now it seeks to captivate diners in León, Guanajuato.
In December 2020, we talk with Campomar about the kitchen plans for 2021. Today, just one month after starting operations in San Pedro Garza García, Nuevo León, the Nayarit-style seafood restaurant shares with us that it is already preparing the opening of its new branch in León, Guanajuato, with which he hopes to captivate the palate, heart, and flavor of the Bajío. 
For Campomar, San Pedro Garza García has become an emblematic location, witness to the culinary creation of this restaurant since the new branch opening in Parque Arboleda, managing to expand the seasoning of Nayarit cuisine to the north of the country and conquering the palate of Monterrey diners through a new concept of sea cuisine.
Culinary expansion in Mexico
The success of the new branch in Arboleda Park, in San Pedro Garza García, is a reaffirmation for Campomar in his intention to expand the deliciousness of the sea towards new horizons.
With more than 40 years of experience, this restaurant makes it clear that tradition is the essence of Mexican society, that is why Campomar sustainably obtains 90% of the seafood from the Pacific Ocean. In addition, the preparation of each dish is based on recipes and techniques highly representative of the cuisine of the Mexican sea.
Among the diners' favorite dishes, fish, shrimp and shaken lobster stand out; Fried red snapper, fish chicharrón, and creations inspired by Nayarit seasonings such as San Blas toast or Campomar snack. 
With high ceilings, optimal lighting and large fresh seafood bars, the architecture of each of its branches recreates a sense of belonging between diners and the Pacific Ocean, fusing the gastronomic experience with first-rate facilities. Thus, Campomar is positioned as a suitable place to enjoy a business lunch and, of course, spend an excellent afternoon with family and friends.
Sergio Oceguera, Marketing Manager at Campomar, points out that "the purpose of the brand is that more people have the opportunity to be part of this traditional cuisine and attract more Mexican palates with their seasoning." The branches in Guadalajara, Puebla, and San Pedro Garza García are 'a taste' of those that are about to come to Main Square, in the beautiful city of León, Guanajuato.
It is clear to us that Campomar is an unmissable sea restaurant for 2021. We recommend that you be aware of the steps of this restaurant of Nayarit cuisine, you will surely want to try its delicious dishes. 
Source: forbes.com.mx