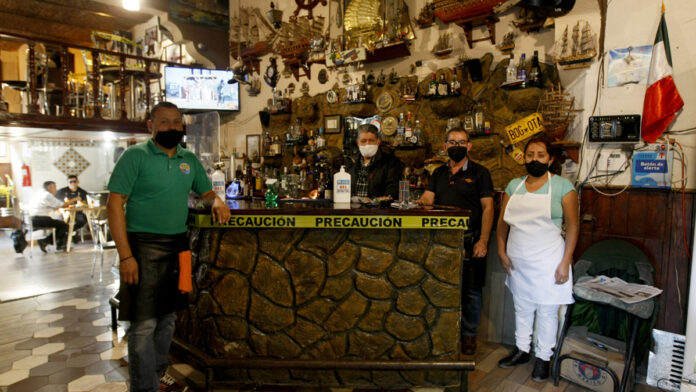 Despite the decrease in cases of infections and deaths from Coronavirus, the bar and canteen sector continues to be hit this year and has not managed to recover more than 5,000 jobs throughout the state.
Javier Quiroga, president of the León Association of Bars and Canteens, regretted the loss of jobs, mainly in the cities with the greatest tourism, families, and businesses, which are San Miguel de Allende, Guanajuato capital, and León.
Only in León, it declared that more than 400 jobs were lost directly, however, indirectly the figure exceeds a thousand jobs lost, and 32 establishments or micro-enterprises that could not bear the closing from April to October in 2020, practically 7 months, while in the state there were around 600 establishments.
"This happens mainly in the Industrial Corridor and the tourist municipalities are the most affected, León closed 32 establishments, with 400 jobs lost directly, which we have been trying to recover because the cost of learning for these people is very expensive and We are not in the time to invest at this time in training new people, we are making an additional uphill effort to seek to recover jobs ".
In the Madero area, in 2018 the municipal authorities counted more than one hundred bars and canteens, since the establishments were opened in streets such as Pedro Moreno and 5 de Febrero, in addition to establishing themselves in the streets that cross as Hermanos Aldama, Donato Guerra, La Paz, Libertad, Juan Valle, September 15 and José Alvarado, as well as in the main garden.
Three years later, more than half of the businesses are closed, the young people and consumers who returned to the Madero commercial corridor in September and October of last year, have moved away again and at night you can walk without congestion problems on the streets.
It can be said that after the rise in infections in December and January within the second wave of the pandemic that León experienced, the government maintains a strict regulation of the Andador Madero, preventing some businesses from being saturated by diners.
Javier Quiroga highlighted that businesses affiliated with bartenders throughout the state have 600 closed establishments, but there are hundreds of bars and clubs that are not affiliated and that closed their doors, as happens in the Madero area, where many of the bars and clubs were not affiliated.
"There were more than 600 closed establishments, all affiliated to the association, but there must be more (clubs) that were affected by the closures, it is very complex to have an establishment because 90% of the businesses we have are leased, in a year without income it was complex to be paying rents, services and payroll, the small resource that the employers had was to survive and support the workers ", he concluded.
Source: heraldoleon.mx