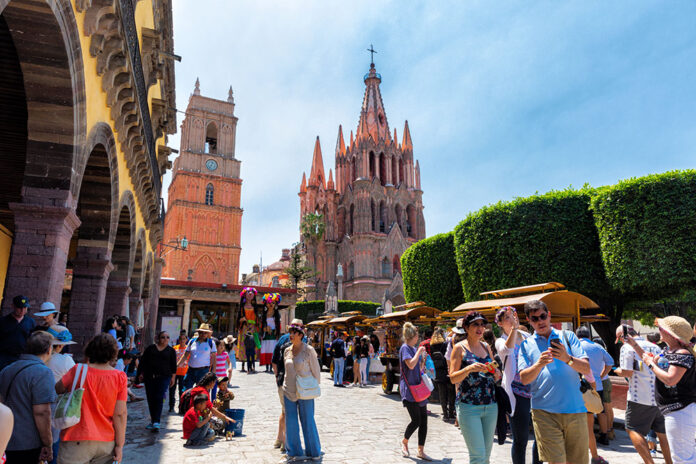 San Miguel de Allende was named the best city in the world in 2017 by Travel and Leisure, and it's not difficult to see this quaint yet sprawling town's appeal. San Miguel de Allende's narrow streets invite travelers to explore every nook and cranny, and each unassuming alley leads to an undiscovered treasure.
There is a seemingly endless selection of restaurants and cafes, and the city comes to life after dark. Evenings are filled with live music, rooftop cocktails and giant paper-mâché mojigangas taking every opportunity to make tourists uncomfortable and bomb their photos. The landmark Parroquia de San Miguel Arcángel draws daily crowds eager to visit and photograph it's famous pink facade.
However, much like the neo-Gothic face that was added to the front of the Parroquia 200 years after the original construction of the church, the city of San Miguel de Allende presents visitors with a charming facade that hides the true nature of life in the city.
A Visitor's Perspective of San Miguel de Allende
I was drawn to the city after reading its many glowing reviews. Eager to experience the charming city streets at sunset and then heading to one of its many famous rooftop bar/restaurants for my evenings, the city certainly didn't disappoint in that respect. The endearing streets dazzle visitors with their walls of colorful buildings and hidden courtyards. Magical sunsets light up the streets and buildings in a sort of indescribable neon pastel glow.
My Airbnb host, one of the many expats living in the city, was extremely eager to describe to me the vast activity options that San Miguel de Allende has to offer. She enthusiastically tipped me off about organic farmers markets, cafes galore, art galleries, wine tasting, spas and upscale dining. Although I appreciated her efforts, I was really more interested in getting the local experience more than the many luxurious offerings that are available in the city. As it turns out, those options really do reflect the local experience these days.
New York Magazine's Love Note to San Miguel de Allende is a perfect example of everything that is wrong with the direction the city is going. The author simultaneously waxes poetic about the magical sunsets and simple pleasures while recommending hotels that start at $340 per night and "wellness-centered cooking courses" taught by an expat, of course. I can absolutely appreciate splurging for travel, but these things go against what is at the heart of San Miguel de Allende, the local people who have made it what it is today.
Don't Expect The Small Village Experience
I am an unapologetic sucker for quaint villages that have an authentic, local feel to them and expected the same out of San Miguel de Allende. While it certainly has its local flair, the city also felt like a downright tourist trap. With tourism being the number one industry in San Miguel de Allende, I can hardly fault them for catering to visitors, but there is a distinct difference between experiencing what life is actually like there and seeing cultural demonstrations that are manufactured for tourists to feel like they're seeing a different culture.
The city's central Jardín Allende (apparently referred to as "Gringo Gulch" by the locals) explodes with activity at all hours of the day, but it's not the romanticized notion of locals who can't help but express their culture. It's mariachi bands singing for tips, giant mojigangas gleefully posing with photos with tourists and hat vendors wading through the crowds of tourists and expats to make a living. Does this sound like typical daily life or more like a mini Mexican Disneyland featuring culture porn for tourists to consume?
Beyond that, San Miguel de Allende is a crowded city. During the day, the narrow streets are often choked with vehicles. Come nighttime the Jardin is bustling with people, which is great, unless you're trying to get a shot of the sunset, in which case it becomes a competitive sport!
San Miguel de Allende's History of Cultural Imperialism and Foreign Gentrification
The issues prevalent in San Miguel de Allende aren't a new problem to the city. Literally named after a Franciscan friar whom prolifically converted natives to Christianity, San Miguel de Allende was founded on the principles of converting local cultures to fit foreign standards. This attitude has been pervasive through its entire history and continues to be a dominant theme of the city today. Even the city's signature landmark, the Parroquia de San Miguel Arcángel, features an updated European design plastered over the front 30 feet of the original church.
Beyond the Spanish conquest of the Aztecs that pervaded all of Mexico, San Miguel de Allende was an early poster child for the Westernization of Mexico. Francophile governor José de la Cruz Porfirio Díaz Mori ordered the reconstruction of the central Jardín Allende in the French style, featuring iron benches and decoratively trimmed trees that stand to this day.
The same governor responsible for the Frenchification of the Jardín was eventually ousted during the Mexican War of Independence, which is famously said to have begun in San Miguel de Allende. In fact, the second half of the city's name comes from a local hero and leader in the efforts to gain Mexico's independence. This war was a direct result of tensions between marginalized locals and the Spanish-born immigrants whom pushed them out of power. Do you notice a theme here?
The current influx of white expats can be traced back to 1938 when an American artist named Stirling Dickinson established an art institute in the city. This institute subsequently attracted more American artists after World War II who were able to study abroad under the GI Bill. San Miguel de Allende's reputation as a cultural hub quickly solidified and remains to this day. This is not to say that Mr. Dickinson failed to help locals as well (he actually quite disliked the influx of Americans to the city – seriously, read that article, it's fantastic), but he certainly set the tone for the future of San Miguel de Allende.
The Expat Impact
The city of San Miguel de Allende's population currently stands at around 60,000 people (and roughly 175,000 in the greater municipality), with about 10,000 of that number consisting of expats. Just look at this CNN article featuring expat life in San Miguel de Allende, with the youngest interviewee being 52 years old. I found this to be largely representative of the expat demographics in the city as well. I don't have any problem with expat living, but when almost 20% of a Mexican city's population consists of older, well to do white people, there will inevitably be an impact on the local population.
This impact is most easily measured in the price of rent and real estate. The average house price is $540,000 USD in the city and the income to rent ratio makes San Miguel de Allende more unaffordable than San Francisco! One of my travel companions summed the culmination of these statistics best when, after paying around $3 USD for a 30 minute taxi ride, she couldn't help but exclaim "how does anyone afford to live here?" I had difficulty figuring that out for myself and I still don't think that I know the answer.
Source: annualadventure.com