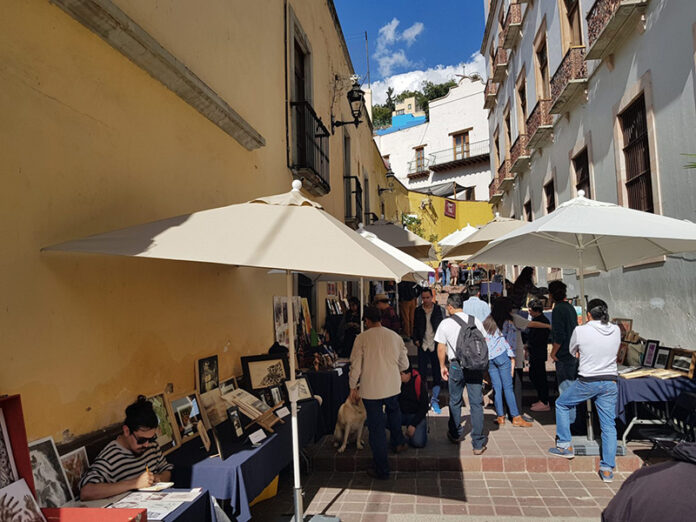 Attention independent artists and groups from Guanajuato. In order to provide open spaces for them to publicize and promote the sale of their creations, the Network of Museum and Galleries of the State Institute of Culture (IEC) launched the call "Callejón del Arte", which will be held once per month in the Callejón de la Condesa in Guanajuato capital.
All those artists or independent groups that produce pieces of utilitarian art (author's designs, unique, exclusive, functional and of limited production) and that reside in different parts of the entity may exhibit in the Callejón del Arte.
According to a statement from the IEC, to participate a portfolio is requested with the description of the pieces of utilitarian art, two images of them in high resolution, this with the aim that the IEC and its Network of Museums and Galleries can use them for dissemination in the media and advertising.
THE REQUIREMENTS
Among other requirements, the artist or group must:
Send a photograph
Profile and personal data (full name, contact telephone number, email, municipality where you radiate and social networks)
Logo (in PNG or AI)
Valid official identification
Proof of address in the entity.
Those selected will be announced between August 10 and 11 and will be part of the event that will take place on Sunday August 15, September 19, November 14 and December 12, at a public display schedule of 11 : 00 to 18:00 hours.
Participants must present the pieces they registered in the call, as well as commit to attend the days of the event.
TO CONSIDER
The event will be completely free, a space with furniture (table and chair) will be assigned for the exhibition of the pieces.
Each of the exhibitors will be responsible for their pieces due to inclement weather conditions, as well as their disinfection.
Participants will be responsible for their transportation costs, as well as others generated by their stay.
The activity will have the health and access control guidelines for health contingency.
For more information the email is available: 

[email protected]

Source: elpipila.mx