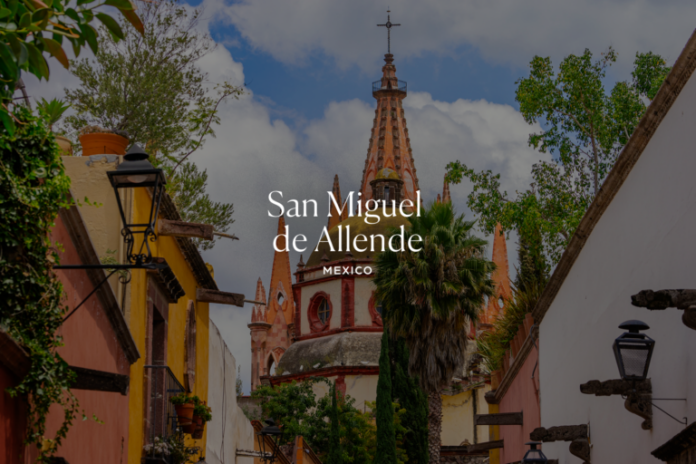 Habitas began with a resort in the popular touristic town of Tulum, in Mexico's Riviera Maya on the Yucatan Peninsula (south of Cancun), in 2016. The group has since quickly expanded globally with properties now open in New York's Hudson Valley, Namibia, Saudi Arabia (two), Morocco, a second location in the Yucatan, and has several more openings under construction, including another Morocco location, Bhutan, Costa Rica, and Los Cabos, Mexico.
But the big news is San Miguel de Allende, a UNESCO World Heritage Site in central Mexico, famed for its Baroque and Neoclassical architecture, with a historic city center full of well-preserved 17th and 18th century buildings. A thriving art culture has helped make it a popular ex-pat community, and this is where the newest Habitas is opening in a few days, in time for the Christmas and New Year's holidays. The resort is just ten minutes from the historic downtown, but set apart in a natural area, with shuttle service included in room rates.
The Habitas brand has quickly developed a loyal following, especially among Millennials, and is often described as a "disruptor" that is "shaking up" or "changing the paradigm" in the hotel industry. But that wasn't the goal, according to founder Oliver Ripley, an entrepreneur and philanthropist (and also founder of the Ocean Group investment company) who simply created his hotels in the image he personally wanted a hotel to be like, more communal and social. That's why Habitas calls all of its properties "Homes" instead of "Resorts," even though the lodging is almost exclusively in stand alone units, not a main house design.
The company line is that "Habitas' mission is to change people's lives through creating deeper human connections and to make a lasting impact on local communities through education, employment and the creation of sustainable micro-economie
From a guest perspective, that means each Habitas home encourages guests to socialize with one another through both the "social architecture" physical design and activity programming. The former focuses heavily on communal spaces, quite the opposite of recent trends in luxury lodging that have been moving towards increased privacy and isolation from other travelers. This ethos extends into communal dining spaces, activities such as group yoga classes, and a human resources focus on staffing with locals who are encouraged to be their authentic selves, sharing information and telling stories, rather than a trained uniform service approach, one that can border on robotic in certain tiers of luxury travel.
Extensive programming is a big part of Habitas' model, and all "Homes" offer guests a schedule of complimentary daily programming centered around six pillars: Art & Culture, Wellness, Adventure, Learning, Food & Beverage and Music. For Habitas San Miguel de Allende, this will include yoga classes, holotropic breathwork and sound baths, live music sessions, painting classes, visits to local artisan workshops and learning the textile art of macramé. Optional non-included local activities of note are hot air ballooning, horseback riding, and mountain biking.
In San Miguel, other key features include a "Beach Club," despite the fact that this is far from any coast. The original Tulum location has one, and this is an homage to that, with a sandy beach on a freshwater lagoon, and natural hot springs as well. In keeping with the spirt of the brand, the House's main restaurant is called Comunidad, a farm-to-table kitchen focused on locally grown ingredients and wood-fired cooking techniques inspired by the local indigenous Otomi culture, with menus featuring both Mexican and international cuisine. A second eatery will open at the beach club in Spring 2023, and the first quarter of 2023 is also scheduled to debut a Habitas Spa, including a Temazcal, a traditional sweat lodge. San Miguel has also become a hugely popular spot for destination weddings, and the property has an indoor/outdoor event center, La Troje, for these, as well as corporate retreats.
"We're excited to open our third property in Mexico, especially in the historical city of San Miguel de Allende, a rich cultural destination that aligns closely with our Habitas ethos," said CEO and co-founder Oliver Ripley. "Habitas San Miguel is the perfect intersection of nature and culture, an experience that synchronizes with the creative pulse of San Miguel de Allende, and its vibrant art, cuisine, music and film."
In poll after poll, leisure travelers today claim that environmental and sustainably practices play a fast-growing role in their travel decisions, and another key part of the Habitas model is both environmental sustainability and support of the local community. The brand is committed to meeting the United Nations' Sustainability Development Goals for 2023, and they have their own factory in Mexico where new Houses are pre-built in modular fashion using sustainable materials and methods while minimizing impact on the sites where the resorts are placed. This also allows most lodging to be in freestanding units, and at San Miguel, there are 60 standalone casitas, all with king beds, walk-in showers, AC, outdoor terraces, and exclusively organic amenities from the Quintana Roo region of the Yucatan, where Habitas has its design factory in Merida.
The brand also has an extensive waste management program to maximize recycling and composting, issues carbon offsets and is single-use plastic free, an unusual biggie for the environment, and as such has been awarded the Oceanic Champion Badge. Habitas RISE is the company's philanthropic arm, a global impact initiative focused on empowering local communities, cultures and conservation efforts. This manifests itself in several ways, creating economic and educational opportunities for locals, building micro-economies, creating jobs and working closely with communities to address social and environmental issues. At San Miguel the big issue is the water depletion of the Laja River.
I have not personally stayed at a Habitas property, but like just about everyone else in the hospitality industry, I've been watching closely as the brand's out-of-the-box approach continues to resonate with and woo new customers. It has also been extremely savvy in picking out emerging hotspots. I've recently written here about how tiny Bhutan is suddenly a "next big thing" on the leisure travel world stage, Morocco is likewise trending upwards, and all of these Mexico locations, Los Cabos, the Yucatan and San Miguel are already popular and growing. But while Bhutan, Morocco and the rest of Mexico are seeing a lot of new openings, San Miguel de Allende in particular has been in need of more upscale lodging options, and this looks like the case of the perfect spot at the perfect time.