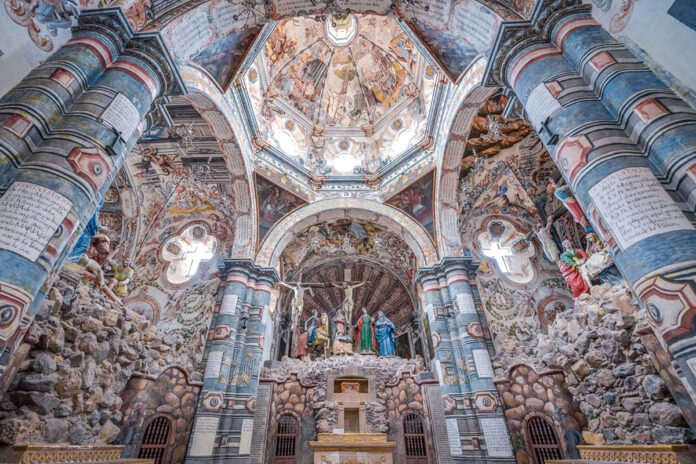 The Church of Atotonilco, also known as the Sanctuary of Jesus Nazareno de Atotonilco, is a remarkable religious complex located 14 km from the town of San Miguel de Allende in Guanajuato, Mexico. It was built in the 18th century by Father Luis Felipe Neri de Alfaro, who claimed to have a vision of Jesus with a crown of thorns and a cross. The church is considered a World Heritage Site by UNESCO since 2008, along with the historic center of San Miguel de Allende.
The church is famous for its Mexican Baroque mural work that covers the walls and ceilings of the main nave and chapels. The murals depict scenes from the life of Jesus, the Virgin Mary, and the saints, as well as allegories of heaven and hell. The most prominent artist who worked on the murals was Antonio Martinez de Pocasangre, who spent 30 years on the project. The murals have earned the church the nickname "the Sistine Chapel of Mexico".
The church also has a significant role in the history of Mexico, as it was here that Father Miguel Hidalgo took a banner of the Virgin of Guadalupe as the standard for his army during the Mexican War of Independence in 1810. The banner is still preserved in the church and is revered by many Mexicans as a symbol of their national identity ³.
The church remains a place of worship and penance for thousands of pilgrims who visit it every week. The church hosts several spiritual retreats and exercises throughout the year, especially during Holy Week when devotees practice fasting, prayer, and self-flagellation.
The Church of Atotonilco is a unique and fascinating attraction that combines art, history, and faith in a stunning setting. It is worth a visit for anyone who wants to experience the cultural and religious diversity of Mexico.
Source: OEM