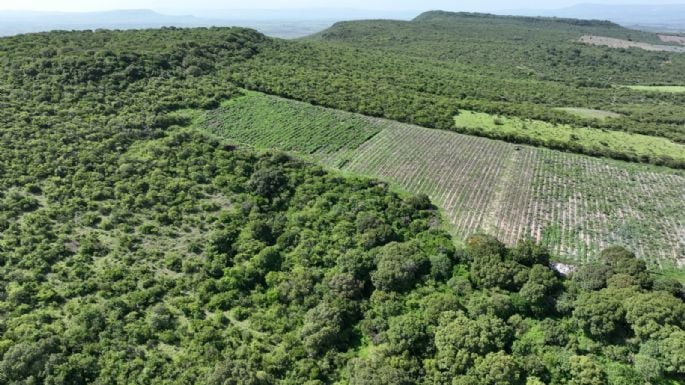 In the last ten years in Guanajuato, agave plantations, mainly agave tequiliana Weber blue variety, have gone from 736 to just over 5 thousand tons, a growth of around 579%.
While agave producers, in this same period, that is, since 2014, have gone from 193 to 2,238 tons, which also reflects that there are producers who switched from other crops to agave.
The above was announced by José Isidro Cuevas Carrillo, general director of Territorial Ecological Planning, which is part of the Ministry of Environment and Territorial Planning (SMAOT).
And given this scenario of growth in agave cultivation, Isidro Cuevas emphasized that work is being done to ensure that this does not impact our ecosystems or cause deforestation, that is, loss of vegetation.
"We have detected that with this expansion that is occurring of the agave, around 900 hectares per year are being affected, especially in the last two years, therefore the SMAOT, in collaboration with our counterparts in Jalisco , a tripartite collaboration agreement was signed between the Government of the State of Guanajuato, the Government of Jalisco and the Tequila Regulatory Council to promote a project that we call Environmentally Responsible Agave (ARA)," he noted.
The project seeks to ensure that all agave crops carried out come from plots that did not deforest or remove vegetation. In the seven producing municipalities, the total suitable area is 266,444 hectares, 65% of the total.
Guanajuato, second producer
Along the same lines, the Director of Territorial Ecological Planning highlighted that at the national level, Guanajuato is the second agave producing state, only behind Jalisco.
And he specified that in our state, there are seven municipalities that have the distinctive Denomination of Origin of Tequila, which is based on soil characteristics, climate and cultivation customs, and the agave crops within these territories are protected by the NOM-006-SCFI-2012 standard, to produce tequila.
These seven municipalities are: Pénjamo, Abasolo, Huanímaro, Cuerámaro, Manuel Doblado, Romita and Purísima del Rincón.
"Currently and with data from the Tequila Regulatory Council, we have planted just over 185 million plants in just over 55 thousand hectares in these seven municipalities and therefore we are the second producer of agave nationally, with a contribution of 13.07 % of national production".
Source: AM