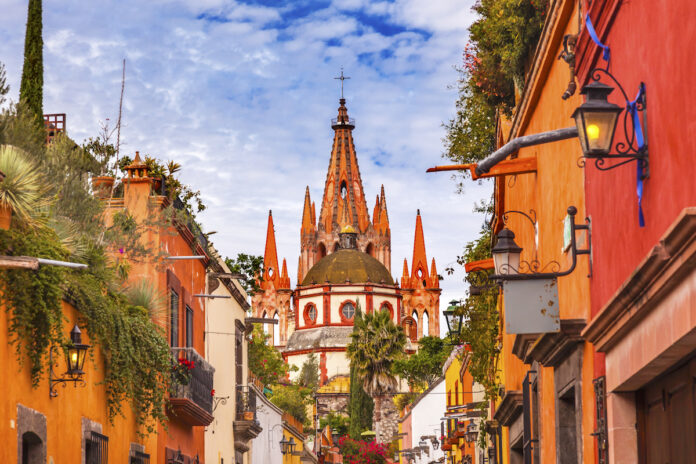 According to a ranking by American Express, San Miguel de Allende, in Guanajuato, is among the five cities that had the most reservations during 2023.
Its colonial touch, the variety of places to eat, drink and fun, as well as its key role in the history of Mexican Independence, have made San Miguel de Allende, Guanajuato, one of the favorite places for international tourists.
According to data from American Express, Japan, one of the latest countries to reopen its borders, became the fastest-growing destination for Millennial and Gen-Z travelers in 2023. Bookings increased more than 1,300 percent compared to the 'normal' year prior to the 2019 pandemic, the company said.
The data is accompanied by American Express' annual list of trending destinations released Tuesday, which suggests places to go by 2024 based on cardholder bookings and recommendations from Amex Travel consultants.
For example, if travelers like the culture and natural beauty of Sedona, Arizona, in the southwestern United States, they should try visiting Santa Fe, New Mexico, the company suggests. The Amex Global Trends Report released earlier this year indicated that 89 percent of younger travelers say they want to visit somewhere off the beaten path they've never been before.
Some of those off-the-beaten-path places made it into the top five fastest-growing destinations in 2023: the northern Indian province of Rajasthan, home to the cities of Jaipur and Udaipur, where bookings rose more than 600 percent; and San Miguel de Allende, Mexico, where reserves increased more than 400 percent.
Like Japan, Australia, where bookings are up nearly 800 percent from 2019, endured an extensive pandemic lockdown that made travel there extremely difficult. In the case of Rajasthan, the prolonged suffering associated with India's brutal second wave of the pandemic caused a significant slowdown in travel recovery.
Julio Puon: How are we doing with tourism in Mexico?
Demand was pent up for these destinations and the pressure valve was released just this year, says Audrey Hendley, president of American Express Travel.
"Japan has been on the big list of trips that people want to take and now trips are booked further in advance," she says. People now also see the country as a potential ski destination, and not just making the typical stops in Tokyo and Osaka, she says.
San Miguel de Allende grows in reserves
Rounding out the top five growth destinations for 2023 was a perennial hotspot that managed to maintain momentum after strong performance in both 2021 and 2022. Italy took fourth place with an increase of more than 500 percent, while San Miguel de Allende in Mexico had a 400 percent increase in reserves.
Other companies say their data directionally matches Amex's.
"Interest in Japan is increasing," says Carolyn Addison, head of product at luxury travel company Black Tomato. "From a sales perspective, we saw a 93 percent increase in bookings in Japan compared to 2019, and a 175 percent increase in bookings from 2022 onwards." In absolute numbers, she says it is the second most popular country to travel globally this year, second only to Italy, a testament to Japan's growing year-round appeal.
"While the popularity of cherry blossoms and holiday seasons will never wane, some [customers] have embraced summer travel despite the heat," she says, adding that winter travel to Japan has also increased so much for skiing as for cultural trips.
Looking ahead to 2024, Amex recommends the lesser-known city of Porto Cervo in Sardinia instead of the busy city of Amalfi. "It's a great alternative – it's still glamorous without being so busy," says Hendley. "Our customers don't want to go to the place they've been seeing everywhere on Instagram."
The best destinations of 2023
Adelaide, Australia
Bodrum, Türkiye
Porto Cervo, Italy
St. Kitts & Nevis
Niseko, Japan
San Miguel de Allende, Mexico
Santa Fe, New Mexico, USA
Seychelles island
Udaipur, India
Zermatt, Switzerland
Source: El Financiero